Last Updated on 2 years by Honest Bikerz
In 2019, strategic reports show the most motorcycle theft occurs in California city. Other cities have some history like California. After buying a motorbike, the first six months are a crucial time. Thieves are waiting for opportunities to take your motorbikes all the time, specialists for the first six months.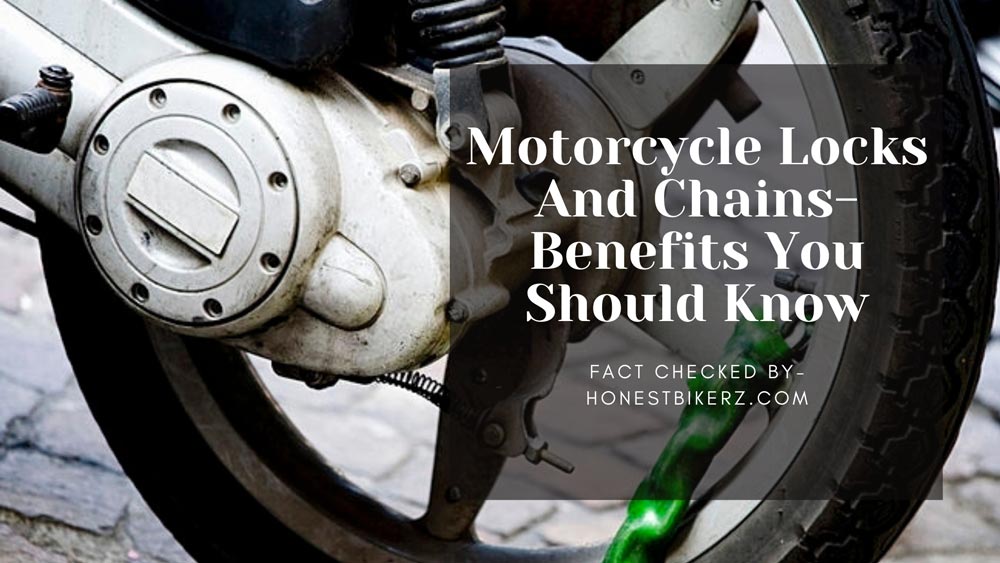 Perfect motorcycle locks would be a great solution to get rid of this problem. But we found that a motorcycle rider does not have ideas about motorcycle locks and chains, and also a rider does not know what steps should take to prevent a motorbike from being stolen.
So, take proper precautions to prevent your bikes from being stolen. The following steps may be helpful to protect your motorbikes.
Steps one: lock your motorbikes properly in your parking area or another place
Step-two: Use effective, strong motorbikes locks for locking your motorbikes.
Step-Three: Note all the possible information about your bikes such as serial number, part number, engine number.
Step -four: Use some code or security marking for identifying the motorbikes.
Benefits of Motorcycle Locks
There are a lot of benefits of using Motorcycle locks and chains. You must do not want to lose your favorite motorbike? To ensure the best security you have to the benefits first. Then you can understand the value of motorcycle locks.
Keep your motorcycle safe from being stolen
Motorcycle locks prevent the motorcycle from being stolen. When you park your bikes without any locking system thieves are getting the chance to take it without any effort.
Honestly, whoever has the intention to take your bikes, they are avoiding targeting the bikes with locks. Before leaving, lock your bikes with the best motorcycle lock.
Enjoy the trip and daily life with peace full mind
When you use a motorcycle lock then it will give peace to your mind. You can enjoy the trip without any tension that someone wants to replace your bikes.
Give less premium for an insurance policy
Some insurance companies have some policies over the installation of motorcycle locks. They may give you a break if you install motorcycle locks on your bikes.
Save your investment
Motorbikes are expensive devices. On the other hand, motorcycle locks are less expensive than bikes.
So easily you will save your big investment by installing a motorcycle Lock.
Why are motorcycles so easy to steal?
Motorbikes are incredibly easy to steal other than cars or any type of vehicle. Most bikes have a lock-in steering which has been unlocked easily. And someone has such types of the key by which they can easily disable the starter circuit.
To steal a bike, riding is not mandatory. You can easily carry the bike in the truck's piston.
All modern motorbikes are difficult to start without proper keys, and also have built-in immobilization locks.
Bikers can secure their bikes against rolling away by using a brake disc lock and against towing away by a lock with any rigid structure by a strong, heavy chain and lock. They also used anti-tamper and motion detection alarms.
Then if the thief thinks he will steal it, he can do it easily. Since the motorbikes are light in weight and smaller than a car, thieves can easily lift them with the help of a few people.
How do you carry a lock on a bike?
Bikes locks are here to protect your bikes from being taken away from you when you are far from the bikes and parked outdoors.
There are a lot of bike locks available to give proper security for your favorite bikes. Cable lock, chain locks, and D-locks. You have to choose which one is best for your brand.
These heavy locks are impossible to carry during ridings. On the other hand, if you're not taking enough accessories with you your rides may be spoiled.
Bike locks are an important unavoidable accessory for riders.
You can use a backpack for storing all types of bike locks. Depending on various types of locks there are many places of storing this during ridings.
In case of cable lock or chain lock, you can store
In a backpack.
Keep the lock secured around your waist.
Pre-install a bike lock mount to keep it attached to the bike.
Pre-install a basket for your bike.
Incase of D-Lock you can store
In a backpack.
On a loop of their pants' belt loops.
Over their handlebars.
In a basket pre-installed on your bike.
How thick should a bike lock be?
The selection of Thickness of bike locks is an important issue. Before deciding to take a lock you have to get proper information about the bolt cutters. All types of bike Locks such as chain locks or D-locks can be cut by bolt cutters.
The more the thickness of the lock, the more resistance is to bolt cutters. If you want to secure your bikes or prevent being defeated by bolt cutters you may take about a 16 mm chain lock or D- lock shackle.
16 mm steel is hard enough to cut by manual bolt cutters.
Can a Kryptonite lock be cut?
There is no unbreakable motorcycle lock. Locks that have less than 10mm diameter can be cut more easily than medium-sized by bolt cutters. Locks that have more than 16mm diameters can not be cut by bolt cutters. The kryptonite is the most secured portable and strongest motorcycle lock practically.
Kryptonite has an 18 mm diameter which is fully bolted cutter proof. Even with the hydraulic bolt cutters, you can't cut the strongest motorcycle locks. Kryptonite Motorcycle Lock has been made from high-quality maximum-performance steel. This cutting by angle grinder is a tough and time-consuming procedure.
On the other hand, when it is used to lock motorbikes there is not sufficient space found to access the cutter grinders. Kryptonite Motorcycle Lock is a double bolted lock and thieves need to cut it two times to open it. If you are in a risk zone, Kryptonite Motorcycle Locks may be your best motorcycle Locks due to their unbreakable properties.
What can cut a bike lock?
There are many tools available that can cut the bike lock easily. Following are the tools :
The bare hands: Surprisingly some poor quality and cheap bike locks can be broken with empty hands. And obviously for that no need to give extra effort.
Wire/Cable cutter: Cable /Wirecutter is the most widely used tool. It is cheap, easily available, and easily fits in your pockets. That's why bike thieves are using these tools to break down cheap low-quality cable locks.
Hacksaws: Just like Cable Cutters, hacksaws are also cheap and easy to carry. Hacksaws also easily cut low-quality cable locks within a few seconds. Hacksaws will also cut U-lock and chain which are made from thin and soft metals.
Hammers: Hammers are tools consisting of a head and a handle. The heavy metal head is mounted at a right angle at the end of the handle. Hammers most often used to break some things, maybe rocks or brick, etc. By small bits of the hammer, thieves will smash cheap and poor quality mechanisms. The Hammer does good jobs against the hard concrete ground.
Crowbars or Scaffold poles: Crowbars are an iron bar with a flattened end. This is used as a lever to open some things. Crowbars, Scaffolds, or other long rods can be used to leverage effects on U-Lock. Though it is long in shape it is difficult to carry.
Bolt Cutters: Bolt cutters are available in different sizes, low, medium, and large. 8 inch and 12 inch bolt cutters are known as low bolt cutters and thieves can easily cut cable locks. These 18 inches and 24 inch bolt cutters are known as medium bolt cutters. Medium bolt cutters defect weaker chains, U-locks, and so on. The biggest or largest bolt cutters are 38 inches and 42 inches. Serious biker thieves can use these bolt cutters.
Hydraulic Bolt Jack: Hydraulic bolt jacks may be used by serious bike thieves. Most of the time these hydraulic bolt jacks may be inserted into space in between the U-Lock and defecate the lock.
Portable Angle grinders: Portable angle grinders may defeat all types of bike locks but are required sometimes. Portable Angle Grinders produce huge sounds and sparkes during operations and get extra attention from people.
Are U-locks better than cable locks?
Considering all features U-lock is better than cable Locks. Cable Locks are not used as a primary security chain for any bikes. Cable locks can be easily defeated by bolt cutters.
On the other hand, due to space in between the Shackel and U-Locks, it is difficult to defecate this one with any hand tools or bolt cutters.
Cable Locks give you the best security when it will be used in combination with U-Lock.
What is the best motorcycle security chain?
Motorcycles are a lovely device for the owners. The Owner has an emotional relationship with his/her motorbikes. To secure these devices owners need to select the best motorcycle locks with all modern features.
For selecting the best security chain lock some features need to be considered.
Chain length: A secured chain must be short in length.
Chain diameters: The Ideal chain diameters for the best motorcycle lock is 16 mm and not less than 10 mm. The larger the dia it is more tough to break.
Construction materials: The construction materials must be resistant to rust. Steel may be used widely in the construction of chain locks. Sometimes manganese and nickel may be used.
Depending on some features the best motorcycle security chain is listed below.
Almax Immobiliser Series V Chain: It is a 16 mm diameter chain that gives great protection made of Boron, an incredibly hard material.
BikeTrac grab bag and chain: Bike Trac grab bags and chains are resistant to bolt cutters and angle grinders. These give optimal protections for your motorbikes.
Kryptonite New York Chain and Lock: Kryptonite New York Chain and Lock can not be cut by bolt cutters. This chain has a double deadbolt and hexagonal chains. It is popular due to its strengths. And you can leave your bikes with this lock chain without any hesitation.
ABUS GRANIT™ Extreme Plus 59: ABUS Granit Extreme Plus has a fabulous benefit that you can change the chain length according to the weight you want.
OnGuard 8016(L) Beast Chain: OnGuard Beast Chain offers the best security due to its six-sided links. This chain is resistant to hackwes and bolt cutters.
FD-MOTO 1.8m Chain and Lock: With 1.8 m length FD-MOTO chain and Locks are 4 kg weights. Compared with other chains this is a little lighter and riders can carry this one if they want.
Ryde Heavy Duty Chain and D-Lock: This lock is helpful for cheap bikes and mopeds. This is a short-chain than the others. You can use it in a low-risk place.
Conclusions
The benefits of using motorcycle locks are huge. There are a lot of motorcycle locks in the market you will found but you have to be smart to choose the best motorcycle locks for your motorbike. Hope by reading this article you have got some clear idea about motorcycle locks and chains.