Last Updated on 1 year by Honest Bikerz
If you are an adventurous motorcyclist, then traveling with luggage on your motorcycle can be troublesome, especially when you don't have sufficient storage for it. However, with the best motorcycle top cases, you're going to explore an amazing far away from riding experience. Or you probably want to stroll outside- just storing your full-face helmet locked in the top case? For this purpose, what should you take?
Top Case, Side Cases, or Tail Bags?
Whatever your object is, we understand. Because we imagine it when you are ready to go for a long adventure, but your journey could spoil the fun if you don't take the right boxes for your motorcycle.
So, taking the best top cases is not a simple task for everyone. You need to get something that lasts long, has massive features, and can be purchased within your budget and safety in perspective.
We have not only analyzed the motorcycle top case, but we will also let you know exactly what you should pick up in 2021.
SO, DON'T BE AFRAID!
We are here to bear a hand. We don't want you to get the wrong things! We always wish for your best belongings.
In a Hurry to Choose the Best Motorcycle Top Cases for 2021?
In 2021, if you are still in a heavy backpack with a motorcycle riding, then it is prime time to go for an upgrade. A motorcycle top case also called a Top box or hardtail bag is an essential protective gear for all tourist riders. And It is the most suitable way to add excessive storage to your bike and keep your valuable items in a safe space.
But the fact is, The Best motorcycle top case purchasing can be expensive, but we know you need protection, and for your safety, small investments are not a big deal.
| | | |
| --- | --- | --- |
| Best for Professionals | Best Worth | Highly Recommend |
| 01. AUTOINBOX Universal Motorcycle Rear Top Box | 02. Emgo Travel Trunk | 03. Nelson Rigg Motorcycle Tail Bag |
| They designed this Top case for adventure riders. | They made this trunk for dirt bike riders. Good choice for the off-road. | This bag is advised for sports bikes. |
| The 47-liter capacity holds a full-face helmet. | As it is a lightweight, easy-to-carry walk. | The bag holds many gears. So we like the durability. |
| Built crossing strap is a valuable feature. | You can modify its own custom features. | It provides UV protection. |
| Not having UV protection. | Not metal. | Zippers need to be more lasting. |
| Check The Latest Price | Check The Latest Price | Check The Latest Price |
Top Best 10 Best Motorcycle Top Cases Reviews
Nelson Rigg is a USA brand, and they are producing many high-demand motorcycle touring bags, covers, and motorcycle rain suits. If you are searching for a motorcycle top case, then you would, of course, be pleased with the nelson Rigg tour motorcycle tail bag features and its durability because they are great to hold many gears.
This tail bag is super, and yes, you will be in love with its fabric quality. Because they have leading industrious ULTRAMAX fabric, newly molded EVA lid, and secure buckles.
Further, this ultra fabric will provide you with more UV protection, and the waterproof mess will shelter you from external elements like rain, wind. Because it has a strong lid that includes carbon- twangs made of fiber tech, and also it has a self-attachment strap inside the bag, which allows your staff to be secure when you ride.
Besides, this top case has lockable exterior coil zippers. So, no one can easily open the bag without your consent if you lock the zipper, and they are solid enough for any ride. In the end, they are very easy to install at home. Even if you cover your bike, they will fit inside the cover.
What can you keep inside the bag?
You can keep your lunchbox on your way with extra space to hold gears such as laptops, gadgets. And even there will be much space remaining to hold your full-face helmet. What we mean is you can keep all this stuff in your top case while riding. So, this is a great thing for a commuter touring.
Remember, the more you loosen the strap, the more capacity you will get.
What do we like about it?
The most important thing that we like is its lifetime warranty. So, there are no defects in the bag as the manufacturers offer warranties.
Our Rate: 9.8/10 based on usability.
The Emgo travel trunk is stronger and harder than any other case, like textile motorcycle trunks. However, Emgo 72-32440 has black stable ABS plastic, so it is durable. If you are a dirt bike rider, then this trunk will be a wonderful choice.
Besides, the best thing we see is it offers excellent security and protection for your loads. No matter how you take something and cram heavy stuff, this trunk will not reduce the lasting. This would be a perfect trunk if you, by chance and unfortunately, fall in accidents. It will not split because of its hard and inflexible exterior.
As it has hard plastic, you will not get any issues in the rain and snow season. The measurement of this trunk is 12 x 16.5 x 11 inches. So, you can easily carry your jackets, full-face helmet, gloves, mobile accessories, and other gears that you need with your riding.
The installation process is hard, but if you are not a new rider, then this will not cause you trouble. You can place it in another bracket. And then with the luggage rack that curves up, the mounting plate. It will offer a 300-mile trip with no problems. Still, all the things will remain protected.
What do we like about it?
The top box for the bike contains a lock with two keys. So, it guarantees you no matter what you keep inside the box, it is 100% safe.
Our advice
you can choose to ride off-road, it will be perfect for holding tools, water bottles, snacks, or Headphones. And another thing is if you lock it, you cannot open it without a key. The lock mechanism is highly complicated. So you better not lose the key.
Our Rating: 9.5/10.
Are you looking for the best top case that is convenient to take it out or anywhere you need it? Then, this trunk black with a universal fitting kit would be your erstwhile choice.
It has a 47-liter storage capacity. So, we can say that if you need to place a full-face helmet or two open-face helmets, then they will fit very well.
Another prominent feature is that this hard top case has two reflective panels on the back, which is lockable. Therefore, you can preserve your things in it with no tension when you stop riding; they are surely safe, like other universal trunks.
This trunk is waterproof, so there is no chance to wet your belongings like other normal motorcycle tour bags. Special grade PP material is constructed, and this trunk is scratch-proof, incorporating the gear you need to mount it in your bike.
As it measures 22.6 x 17.9 x 12 inches, you get a large space. However, it is not as good as Givi's, as per its tariff you must be astonished.
The side we find a lack of this trunk is LED brake light. Also, this trunk does not offer UV protection, making it not identical in the market; however, it comes with a base plate and can lock with the rack, which is a great way.
What do we like about it?
This trunk is fashionable, suitable for many motorcycle riders, especially for adventure bikers.
Our advice: This Universal trunk will fit any model motorcycle and power sports but you need to be sure that you have a luggage rack to mount it.
Our rating- is 9/10.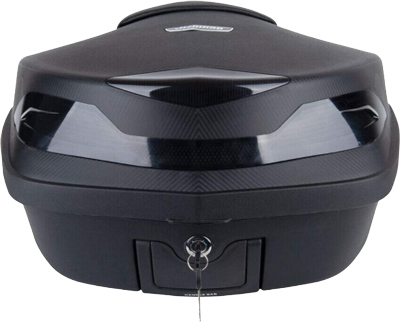 When buying a motorcycle tour tail box, there you need to perceive its design, storage, installation process, security, and weather resistance. These are the essentials to judge a top box vitality.
The Comie motorcycle tour tail box is broad storage in a sleek vessel. The comie is 48-liter capacity. We used this case in the Yamaha XT-250 back. As it is lightweight and secure, which allows you to store helmets, jackets, pants, you will feel there is nothing attached to your motorcycle.
If you ride a scooter, even this will look good in there. No matter where you go, how many miles you are going to ride, you will enjoy the ride. If you are an adventurist, then you will fall in the trunk. Because it has a side handle and a universal mounting setup, you can pack and place it with your bike even to take with you in your office room or at walking moments.
The trunk comes with four ranges of color- white, black, gray, and silver. So, if you are colorblind it has alternative options for you and can match with your bike color.
The black color is cool, Low key, and wrap-composed but the silver will make you shine, leisurely. However, if you need a clean and artistic-looking feature, then a white case would be your choice.
The best thing we like about this top case is, they made it off the hardest polypropylene which is worth it if you compare it with others in your budget. Like other cases it has a locked facility but what is the main uniqueness of the top case?
Its functionality. It comes with supplementary outline protection which will help you place against it for a rear for your commuter.
As it is 22.3 x 17.3 x 12.6 inches and offers 48 liters of storage capacity which means you can keep two open-face helmets, so it will relax you enough.
Our advice: This Universal trunk will fit any model motorcycle and power sports but you need to be sure that you have a luggage rack to mount it.
Our rating- is 9/10.
5. Shad Top Case Motorcycle trunk luggage
Shad has been a renowned motorcycle gear manufacturer since 1973. Mainly, they produce OEM top cases and seats for the motorcycle industry.
SH45 Top case is a universal top case and not for any specific bikes. The trunk we installed in the 2019 Honda Goldwing. It comes with two key locks. To unlock and open the box, turn the key. So, it is vertical to pull the level and you have to pull the other sides below. Then it pops to open.
And there are two little supports you get when opening the box from two sides they stand by. The size ranges from 26 liters up to 36 liters, which is adequately big to consume a 2XL helmet.
Besides, it has a bungee cord connector inside the case to support your stuff so that they do not move around. It comes with two plates with the screws too to attach with any grill or carrier.
But for a new rider installing this trunk, will feel uneasy because the plate is so wide. However, it is not a big deal at all.
GIVI Monolock is one of the most prevailing items in the Givi Brand. The GIVI Monolock contains a universal plate for tubular-style luggage racks.
If you are a short-time tourist, Givi will be your respectable option.
Because we know them for producing an extensive sort of hard case. The GIVI Monolock profile is good but this top box does not have a bungee toggle inside. make it your own so that you can feed that through the fixing of straps to attach the seat going under the rear section, and then it will hold the thing in place.
The Givi GIVI Monolock has a 30-liter capacity. You can keep inside your full-face helmets and gloves easily.
With smoke reflectors, and lockable it has a unique identity from the usual monoblock Top case.
With the Givi V56NA monokey top case, you are going to get premium cases in Givi's traveling suitcase lines.
If you are lately going through any discomfort with motorcycle luggage, then here Givi V56NA is to help you all-time in the bike rack. Givi is a motorcycle accessories manufacturer. No matter what motorcycle you have. Whether you have a DUCATI, BENELLI, or a MASH rider, the V56NA monokey top case will fit without interruption on any motorcycles.
They proudly made the Powersports luggage in the USA. It holds two adult helmets with no issues. The built quality is solid, for a long-term trip you will fall in love with it. However, the installation is crafty once you get the necessary base installed.
We had a 1700mile tour from Canada, and it worked great with boomy weather. If you need to visit a supermarket for shopping or office work, it would be a brilliant choice without carrying heavy backpacks.
It is very arduous to drill for installation. But you will love the trunk knowing that it does not need any drilling. So, having no problem, you can install the trunk on your bike, which reduces time as well.
They constructed the yescom from ABC plastic, so it is strong. That's why you get 30 liters capacity and can keep pretty tough stuff, so it will not get an improbable crack or get busted (has strong anti-pressure.)
Over the plastic, we see their red ruminative band which shows its beautiful design. This spans around the back of the trunk and enables better perceptibility in the road. It's a valuable feature of the 30L motorcycle tour tail box. Because we know how it is vital to be seen riding at night.
It has a quick-release function so you take it with you anywhere. The downside is it has no mounting instruction, also cheap screws, and the dangerous side is, it may plunder easily which despoils.
But the bright side is no expert or special tools are needed, only you pop it on the rack and you are ready to start your ride.
This bag is well designed. But it has a 23-liter capacity. However, it may seem your smallest bag but we picked it for its unique facilities.
They made the bag of industrial-grade ballistic urethane-coated nylon. This is the uncommon tail box you will find. The rectangular shape will impress you; in fact, it resembles backpacks. They make the product in the USA and come with a zipper dedication in which you have an option to hide the bungee if it need not be used.
The bag is scratch-proof. Because it has vinyl material. For your safety on the road, it has a reflective strip. It also provides an adjustable Tab lock.
To keep small accessories like headphones, Mobile and charger, the water bottle you can not presume to keep any large things. It has a supplementary mesh pocket where you may keep extra belongings.
If we want to write about bag security then, yes, it is good and lets you lock property.
The new monokey outback top case will make your long-term ride easy cozy. In GIVI everything seems valuable. The Givi OBK42A is not cheap and not for many riders because of its unique look. It will match only adult office job holders and for a 50-year man.
We tried it in a BMW f800r and they fit it right.
This aluminum top box has a pre-installed lock set and keys. The noble thing is you do not need a special rack, you can attach it to any existing monkey plate. But remember, you may require buying mounting in case it is not installed properly.
The 42-liter silver case will hold your full-face helmet completely.
It has handles to tie down inside and out, so it is good for everyone. If you ride through large rain storms while riding in MS, AR, and TN and you notice that it still keeps the belongings dry. Finally, we want to say it is an excellent finish and stylish pattern, although it will take a lot of money.
How do you use the top box on a motorcycle?
We already know how crucial it is to have a top box on a motorcycle for storing necessary things.
Maybe you need your bike for practical days, then top boxes are the most convenient accessories ever.
Fitting on a bike with a top box is normally easy. It does not include any width so you get the filter option. However, too much weight might cause your bike to wobble.
There are only 3 easy steps following that you can fit on your bike.
Find a fitting kit.
Fit the brace underneath brackets.
Line up everything.
Motorcycle Top case buying guide: Check the things before buying in 2021
Your motorbike is your daily companion. By riding a motocross, you go to the office, take part in hangout times and weekend destinations.
And of course, you need special cargo space. In that case, the Top box becomes an add-on.
Now, what to look for when buying a Top box?
Top Box size and shape
You must buy the top box where you put your belongings such as a helmet, jacket, pillion helmet, groceries. If you are a solo rider, you need at least 37 liters. And also, if you need a pillion on your jacket or armor then you will need almost 46 liters.
Keep in mind that your top box belongings will depend on their shape. It would be harder for you to keep items inside in case it has an awkward shape.
Our Top tips: Evaluate how much space you need. To fit everything in your top box, lay your jacket into the top box with a zipper side up. You can induce a nest for your helmet to fit in. Then you can bend the jacket's shells around the helmet.
Fitting method
You must need some hardware to fit a top case on your motorcycle. First, it required you to have a mounting plate. Many times it comes with the top case, but be careful so that you do not need to buy it individually.
And then a bike-specific mounting kit you will need to attach the plate with a bike rack. If you don't have a bike rack, then you buy it from the local market or make it at home.
Our Experts' tips: for fitting a top box look for the amount which has a quick-release hub lockable feature.
Design of saddlebags
To pick the best match for your bike, the Top box comes in various layouts. You should contemplate the softness and sturdiness of the case. If you think about the durability, then hard cases incline to live long even without wearing out.
No worries about the hard cases because it prevents water from harming your stuff.
The portability is good in some ways; hard cases have handles for the easiness of transportation.
Locking mechanism
If your top box does not have a locked facility, then it would be useless. The reason? If you do not lock your case, then there will remain a security issue. Anyone can open your trunk and can see your stuff. Besides, it will be easy to steal. So, you just need to have a lock system to prevent theft.
Installation
If the installation is difficult, then no one will be satisfied with the items. So, you need a case that you can install easily. We recommend going for the case that has installation instructions and is easy to install with no stress and can be removed in a short time.
Weather, water, and scratch proof
No matter which brand you choose. What box do you buy. You must consider its weather resistance. Because you don't want to get in any trouble in poor weather. You need a top box that is waterproof and can not get any scratches. So, if you ride in bad weather, think again about the box.
What benefits will you get from motorcycle top boxes?
Motorcycle top boxes are transportable
when you ride a motorbike, you receive only a small range of capacity. But if you have a Top box or trunk rucksack while depending, it multiplies the storage capacity. And this means that it is easy to take any burden, and you get more storage.
Preserve your accessories in a motorcycle top box
It is more safe and untroubled having a Top Case on your motorcycle. Because most trunks have a hard shell and are waterproof, which means you are safe on a rainy ride, and also your belongings are neat and fine.
Unnecessary to lug a backpack
We know carrying a bag sometimes seems awkward and uneasy. If you take a backpack, it is very dangerous because it forces you behind, and it might be pesky, which causes a massive crash. So, if you leave all your stuff in a case and it separates you to ride snugly.
Brand Name vs. Generic Motorcycle Top Cases:
People want brands like Givi or Nelson Rigg. But, we understand you need outward-like gears by generic brands for a portion of the cost.
You should choose the brand name top box if you store important items and don't need a cheap case. If you occasionally park in a place where it is susceptible to theft, and you also need extra parts and good instruction to fit, you should consider the brand name.
On the other hand, when should you choose a cheap generic top box?
If your budget is not high.
You only need to use top cases to store your lunch, camera equipment and to keep extra things like a mobile phone, charger or laptop bag, etc.
If you find other good users with valuable feedback for the product, there is no problem choosing generic top boxes.
Best Motorcycle top Box brands:
NELSON RIGG: Nelson Rigg is in the USA and is high-minded motorcycle equipment and gears manufacturing company. They were founded in 1972. This is producing innovative technology and continuously new motorbikes products. They are highly focused on motorcycle covers, soft luggage, and apparel. So for your next adventurous riding, try Nelson Rigg, as we have highly recommended. Also, it can take an additional load.
Emgo: We hope you already saw the above table and the features of Emgo. Emgo is one of the oldest manufacturers in the world. They have been supplying for almost 50+ years as a wholesale distributor. Providing quality and shielding products is their commitment and passion. If you want to see their dedication to the automotive industry, then check out Emgo 72-32440 Travel Trunk and experience the features for yourself.
How many types of motorcycle top cases can there be?
Special Model: These are model-specific and made by bike manufacturers as well as in markets. You should buy a trunk that is specifically intended for only your bike model. We can find these in hard and low plastic quality. Besides, they are secure and have an ascending operation which makes them distinctive from others. You will be happy knowing that they have another outstanding feature which is organizational kits. Although, their internal linings and corporate kits are additional traits.
Universal Model: These kinds of top boxes are common. So it's usable to bikers. These are made to operate with all sorts of riders and models. However, they are functional, but these top boxes will not fit properly on all bikes, but you will be able to use them, although their pertinent issue will sometimes irritate you.
Normally, they are made of hard plastic, and many features are not available there. So, from the point of view of the specific model, Universal lacks many of the exclusive features. Still, they are inexpensive choices.
Custom made: Finally, you want something your own made, your design and own produced. Right? You could design these kinds of trunks for your specific needs. They are normally forever mounted on your bike. The advantages? You can catch them in your desired colors and any features if you want to build. We saw some folks using a custom-made sound speaker on their trunk to listen to songs while riding. Although it is peculiar, it sounds great. And the great matter is you can even create it at home.
Final Thoughts
Finally, what we want to say is when you are going to buy a new top box just choose it. As we already wrote a buying guide, now you should have understood about integrity. So, when you buy a top box check its locking system, mounting structure, features, load capacity and compare the price with other items. If you get the lifetime warranty, then it would be a plus point.
How do you carry a bag on a motorcycle?
A motorcycle can carry a bag on two sides: side of the motocross (side-panniers/bags) Back behind you, you can keep (back-pannier or pack-rack). Tank, in front of you, you can place (tank-rack).
Do motorcycles have trunks?
No. All motorcycles do not have trunks, but only adventure and touring motorcycles come with a new trunk.
How many miles is too much for a used motorcycle with a Top box?
40,000 we consider miles too much for a bike. However, about the top box, it depends on the ride, weather, and quality of the trunk.
Top case vs. Side cases?
Both are important. It depends on your belongings and how many miles you will go. But we prefer the top box for aluminum adventure care. However, taking both of them is safe.
Monokey vs. Monolock, what's the difference?
These are the features of Givi's top case. Monokey means you will use the same key in the lid as well as the base plate so it will match with all the Givi monokey luggage which saves you from carrying an extra key. The Monolock is different only in universal mount. So it can't be used in monokey luggage and their locking mechanism is not sturdy.