Last Updated on 2 years by Honest Bikerz
Panniers are simply a bag that preserves all your stuff attached to the motorcycles. They are mounted on the back of a bike. The principal reason for using a pannier is for the distant touring to pull your belongings around the megalopolis.
Although, it has many alternative names. Some folks call them saddlebags, side cases, bags, and panniers whatever in the name you call, but all of us show it as a luggage option. For Cross-country touring or taking groceries, these are crucial to carry your things.
There are overall two viewpoints when bearing in mind a motorcycle bag. Each of them has two paths. One is the advantage, and the second is the disadvantage. Yes, especially, when you purchase something, there might be two preferences and these depend on the product's weakness and strength. So, we will write a motorcycle panniers' buying guide. But before going into deep thoughts we need to know some basic questions about a motorcycle bag's details as an experienced rider.
The 9 Best motorcycle panniers
1. TCMT Hard Saddlebag
The TCMT Hard saddlebag is one of our honors and recommended as the best motorcycle panniers in the current market for most riders. They designed these panniers to fit on a wide range of various kinds of motorbikes.
This pannier will give you the flexibility and gear storage capability that you need when bike riding. You will enjoy your riding with an energetic smile.
What Features will you get?
The TCMT hard saddlebag comes in nine different colors. So, if you are a man of color phobia, there are no obstacles to the selections. You can choose the desired tincture you like. You may find vivid black with black or chrome latches. In case you don't like this color then, there are alternative colors such as matte black, red, white, Blue and even yellow-finish which you don't need to paint.
Material & placement
They are made from high-quality ABS material. You don't have to buy any extra racks for installing the bags. The pannier is easy to install. Whether you are an expert rider or a newbie, you don't have to suffer from the installation process. It needs no adjustment. You can install it easily back to its original position.
Capacity and Size: The TCMT saddlebags have the dimension of 30.03 x 20.67 x 15.99 inches which means the length size is about 50.cm & the width size is about 15cm. And the height is 28cm + 32cm. So, the item's weight is 27.5 pounds. The chrome and black latches will provide long life with durability.
Why do we like it?
These bags are a valuable and perfect option instead of the pricey Harley brand. The bag will fit with all touring models including road glide, road king, ultra, street glide, Electra glide. They also fit on the Softail, DYNA, and Sportster Models With the conversion Brackets.
2. Kemimoto Motorcycle Saddlebags for Sportster
Every motorcyclist wants to purchase the finest brand. No one even wants an item that is not durable and economical. However, Kemimoto is reliable on this statement for saddlebags' style and quality.
This motorcycle is perfect in fit. It will fit for Sportster, Softail, Dyna, street glide, road king, v-star, shadow, Vulcan.
The bags are very well made and very stable. They have a good interior and exterior. You will find inside there a lot of space to hold your stuff. Meaning that you can keep four bottles and beverage cans inside the bags. Not only that, you will even see a side pocket inside the bag to keep your secret document, wallets, or notebook.
According to its size and capacity, we can say that you should be able to keep your mobile phone, power bank, motorcycle gloves, earphones and everything else.
The main loving object of this bag is wilt. If you open the bag you will notice there is a hard shape. So it will not cause trouble when the bag is empty. It will remain swollen.
Compare with others
They do not make the bag of pure leather. As they made it from durable synthetic leather, it has the potency to keep your things safe from water. It will protect in light rain. So, there is no tension about getting wet.
They are good in price. Each pannier comes with a powerful and adjustable strap for protection. It guarantees while riding, the pannier will not move or lose and glide around your riding moment. The dimension of kemimoto is 15.8 x 14.6 x 13.8 inches. You will get saddlebags with ropes for installation.
The most prominent feature we like about the bag is it has a pin buckle and two ways to open. So, with the quick release buckle, you will not have to open the bag extra.
The facts that we dislike about kemimoto
Despite all the facts, we found only three issues of kemimoto saddlebags. The most important issue is that they are not a universal fit. So, before buying the bags you have to be sure whether or not the bags will fit. You do not want to spend extra bucks on redundant things, do you? So, these bags will not fit on all kinds of motorcycles. Because they are not a universal fit.
And the other thing that disappointed us about these bags is not having a locking mechanism. So, you can not lock them. In that case, your important stuff will be at risk of being stolen. But according to its cost, this feature should have been given. Another drawback of these bags for Yamaha 2018 bikes- they will cover up almost all passengers' shin. So, you can not take someone from these saddlebags behind you.
Why do we like it?
The bag is easier to open and has two buckles which strengthen its quality and bonds.
3. Nelson-Rigg Dry Saddlebags
The Nelson-Rigg SE 3050 provides safety and protection for many riders when they need to contain a lot of things into the saddlebags. You need durable and adjustable motorcycle panniers.
That's why we keep this on our list. This saddlebag is our third commendation. Nelson Rigg is a trustworthy and very renowned company in the world for the motorcycle manufacturing industry. We are being consistently touched by the quality of their products.
They have been producing high attribute motorcycle saddlebags for over 30 years. There is no chance of getting a downfallen or ruined product.
This saddlebag is lightweight. Carrying it into your motorcycle will not make it heavy. It has a soft-shell pannier setup. For a sturdy and reliable connection to your motorcycle, it comes furnished with aircraft-grade aluminum mounting hardware. The installation process is simple and all of their motorcycle saddlebags are universally fit.
Whether you have a camping trip or adventure in a forest, you could ride without worries. This saddlebag holds 27.53 liters on both sides 27.53 liters. Also, there are no tensions about the breakable or thin plastic buckles. They are highly strung.
The best thing we like about this bag is, they are purely waterproof and for better weather protection it comes with electronically heat-welded seams. There are many bags that do not provide UV protection. But In the Nelson Rigg SE-3050, you will have got the UV coating that diverts the harmful sun rays and road debris for protecting your inside gears.
Now, if we speak about the inside, there you will get an enormous capacity to hold the important stuff as we already wrote above 27 liters storage each. Also, there you will notice a firm internal black plate to help support the bags and maintain their up-right.
Colors and Availability: This bag comes in two colors. They are only available in black and yellow.
Compared with others: The bags are easy to install on your bike and have user-friendly double pull straps. Overall Nelson-Rigg would be a superb choice for bikers who need an easy motorcycle pannier solution. All this bag is durable and can be used in any wide range of riding conditions. Especially, for riding a sportbike, stripped bike, Harley Davidson, cruiser, sport touring, dual-sport, or Adventure motorcycle.
Why do we like it?
This saddle bag has a lifetime warranty. That means you can get a new one if your bag gets scratched, but the condition applies.
4. WILD HEART Motorcycle saddlebag
Wild heart motorcycle saddlebag is a popular adventure motorcycling bag. This bag is pretty inexpensive compared to the other bags above. However, you may think it will fulfill your expectations? Now, we are going to cloak out several facts about these bags.
First, these bags are very strong and have high-quality tarpaulin material, which means they are quite a wellspring, and the sewing is wonderful. The design is well furnished. They are commensurate to satisfy your anticipation and you will not get other(local) manufacturers at the same price.
If we talk about the straps, then we don't want to write any contradictory answers. The focal point is because we tested the bags out in our BMW 1200 premium. The straps are the major fear for every adventurist biker. It is very disappointing when someone loses their luggage on the highway. It is supposed to ride five hundred miles, in case you don't realize the missing issue.
But it is unfortunate that the straps are thick (Not too much). The buckles could be strengthened. However, it can be clearly said that we can use this bag for almost 2 years if we use it carefully. We tested the bag in heavy rain and the noble thing is these bags are waterproof. The bag will protect you in the rain and in the thunderstorm. No matter how and in what weather you ride. Water will not enter inside, surely. So for ADV riders, it would be another perfect choice. The bags are huge and have plenty of attachment points. It can carry your desired objects.
In the end, some improvements we can suggest so that the manufacturers could produce and manifest a better result. Since we already identified the straps issue, they need to be stronger. The bag is only available in two colors. But what if I am not a beau of Black and yellow colors? I like blue, red, white, and green colors. Then? Although, it is just only a visual view. But it matters.
Notable: You just need to be careful according to your motorcycle type, size before ordering the product so that you do not suffer from returning trouble.
5. Nelson-Rigg Black Dual Sport Enduro Saddlebags
Nelson- Rigg keeps their tradition of superiority in providing Power sports luggage with their new line of UTV and off-road accessories. The popularity of dual sports bikes is growing ultimately and Nelson-Rigg is also continuing with its dignity.
Do you need something universal so that you can use it on two bikes? If you have such intention, then yes, Nelson-Rigg Black Rg-020 would be your respectable choice if you ever wish to spend a weekend on a camping adventure.
You may dislike other panniers, but compared to others, The RG-020 Dual Sport saddlebags are intended for the most enduro, adventure, dual-sport riders such as KLR650, KTM EXC, WR, DRZ, and CRF.
The Best thing we like about the saddlebags is that they are easy to install. Because they are very special and have a secure mounting system, it shows that they don't need any side racks to install the bags. Pretty easy, ain't it?
It provides surplus straps, which are included for ADV bike applicants. To protect your bike's plastic, they construct the saddlebags from sturdy UV-treated and water-resistant 1680D Tri-max ballistic nylon, with an anti-scratch inner panel.
If you ride at night time, then there is reflective piping and accents for better visibility and protection.
The bags are lightweight but the storage capacity is not so much. It holds only 12 liters per side. So, you can only take your important things. However, when more is needed, you can expand the main compartment. They are available from 12L to 15L extra storage.
What more we can write here about these bags is- each bag has an external pocket to carry your sleeping bag, tire irons, tool roll, or spare tube which is convenient for you if you don't take a long trip. However, these bags are typically better than the Chinese non brand.
6. Chase Harper Aeropac II Saddle Bags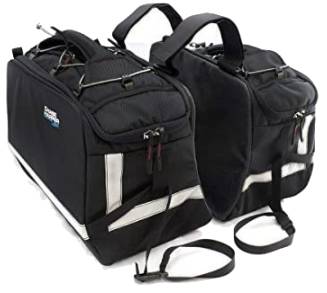 Chase harper 3550 aeropac II saddlebags are made in the USA. It may seem more costly than other simple bags. But for extra features. You better spend some extra bucks. In the bag, they have inserted hand-molded thermoplastic for inflexibility, a tab lock, mesh pockets, and a key hook.
The main convenient features
From plastic, they added rigidity which helps keep them aerodynamic. These bags have non-abrasive vinyl material. So, it will prevent scratching. The bag is lightweight but to maintain the aerodynamic shape it has strong HDPE thermoplastic sidewalls inserted. For better exterior durability it has a grade ballistic nylon Industrial exterior.
Safety, capacity, and size:
You will like these soft saddlebags with universal velcro crossover straps and side safety straps that make them versatile for any bike. Though the bags look smallish, they can promise to hold a lot of stuff. The bag Dimensions: 14″Lx8″Wx11″H (per side), which means the average volume capacity is 20 liter per side, but in total 40 liters.
They are water and tear-resistant and provide reflective visibility strips outside, so you do not have concern for the separate cover adding for visibility. The bags are for a universal fit, not specially designed for a KLR650. CH always makes quality materials. The inside hardware is superb. The best part is the Lifetime warranty. So you get a surprising amount of features within the price range.
7. Vechkom Saddlebags For Motorcycle
If you are looking for a motorcycle saddlebag to use in everyday riding, then the vechkom store will provide it for you.
The bag is very solid for the price. Not too much capacity it provides but enough to carry your usual daily gears (suitable to hold wallet, gloves, cigars, jacket, 4 water bottle, raincoat and so on.). It has a seven-liter capacity to fulfill your carrying needs. These saddlebags are of high quality and made of pure leather. So, it would be a better choice for an alternative to artificial leather bags.
Why would it be an excellent choice?
Only for the retro design. As already said about small size but at least it has enough space to meet your daily needs for traveling. Although the design is stylish it will not be suitable in heavy rain.
Maintenance Care:
You should keep the saddlebag away from any popular objects particularly, the exhaust pipe.
Long-term exposure will cause splitting, that's why don't expose to long-term exposure.
Be sure before driving it to attach the saddlebag to the motorcycle to avoid dropping.
It has strong clips to close and open the bag, and they are so fast enough. We tried it on a Harley Davidson, and it fit perfectly. In case you get an urgent trip with a few items to pick up, then you can try it out because it is available at an affordable price.
8. Vuz Moto Motorcycle Dry Saddlebag
When it comes to style and quality choice, Vuz will serve your needs. Yes, this motorcycle bag caters to your requirement. They made these bags of PVC tarpaulin fabric with a neoprene shield and they are a hundred percent waterproof. With the unique design shape, it will keep your attaché case safe and desiccate at all times.
For security, each pannier comes with four strong compression straps which show and ensure that this bag will not slip or slide at the time of riding.
The bag has velcro straps to connect the bag to the bike and allows quick release. The reflective strips on the back of each bag provide increased visibility and protection.
Capacity and Size: The panniers can hold up to 53lb weight. both have dimensions of 16.6″ x 12.9″ x 3.2″ which mean each of them can carry up to 5.05lb weight.
The major benefits of Vuz, To form a saddlebag, you can attach the two bags with the Vuz Velcro straps or even you can use the bags one at a time. These bags are waterproof and can deal with any weather. So, you can travel without any tension.
9. IRON JIA'S Motorcycle outdoor Tail Bag
In the last month (April 2021), one of our friends bought this saddlebag. In short, if we say anything about these bags, that would be their respectability. Yes, again inditing, it would be its respectability.
Why do we keep it on our last List?
Whether you are a new rider or deluxe rider, or just now bought a new bike, bike riding is your avocation. And for carrying things on your bike, a motorcycle seat bag is important.
These bags are very cheap. In a word, CHEAP. Yes, but do not mock the price range. There are many average normal riders who need only passable bags for their riding. Or perhaps, they just need to use it only for a trip. However, these bags may be cheap but the features are amazing. In a nutshell that can be said in words: The gorgeous in simple.
No matter how many miles you go, they will satisfy your expectations. These bags are weather resistant. Even though you don't have to worry about hurricane season. Still, it will not leak there.
The bags are available in many size options with different colors. If you don't like the black one, no problem there are six alternatives available to choose from. The straps are simple to use, however, the installation process is a little tough. The best thing we like about these bags, Air release value and Elastic Band. And the last thing we like about This waterproof bag will support superimposed use.
The main Three benefits of having a motorcycle saddlebags:
A saddlebag or seat bag is a bag attached to the seat or under the saddle. These types of bags are being used to keep stuff such as Extra internal tubes, puncture repair kits, gadgets, rain gear, food, and first aid kits.
In general, these bags are for cross-country motorbike riders, touring bicycles, cyclists, and racing bikes.
The main three benefits of having a saddlebag are convenience, security, and necessity.
Racking Vs. Straps What do I need?
There are different panniers available. And of course, different types of panniers will need distinct mounting. Depending on the inclination you can either choose a pannier that straps directly to your motorcycle, or you may buy one which needs to have racking installed.
Before Buying a saddlebag, look at these three key features:
These are generally three features to determine a saddle bag's life span.
Lockable
Materials and durability
Size and fit
Why do we need a pannier instead of a hard case?
We guess you are thinking about a road trip or you may tent somewhere. You may have to carry a lot of necessary things such as food, tents, clothes. These are essential and there are no ways to leave them out. However, these are your stuff. You must take them with you.
"A pannier will make your long-distance ride even more easy and convenient. You will store your things there."
Which one should you take? A pannier or hard case?
Yes, it is the toughest to decide on. There are many tackles to judge when it is hard vs soft luggage.
Manufacturers made motorcycle hard luggage from aluminum, plastic, or even a mixture of both. The principal purpose of them is to attach with the motorcycle or suited for motorcycle use.
However, a motorcycle pannier is normally free from the top or can be side with water-resistant, dustproof, and lightweight they are. Panniers get support by a specific rack and a bracket system is used to connect and disconnect them from the rack. Hard luggage is expensive and will be your brilliant friend in order to carry things. But who wants to spend thousands of dollars to get an excellent case?? If a piece of soft luggage can solve your problems, why do you need a hard case?
Soft luggage is cheap and you can easily repair them in case they are ruined. There is no extra trouble attaching your bike. If you are thinking of going to ride off-road, then soft cases will be your superior. You can span through the grooves and can be crushed with the dread that your motorcycle luggage is damaged. But you will be astonished to see that your soft luggage is in excellent condition.
What features to consider when buying a good motorcycle pannier? (Buying Guide)
As we understand about the panniers' importance and every rider should have. Now, remember these features when you buy them-
Safety and Durability: If you don't have a pannier then it would be a safety issue. It might be hazardous for riding a bike. You can not ride with items on your lap and obviously not something that you should do.
You may think about using backpacks? Or hanging a bag on a motorcycle?
Yes, you can. But how comfortable will you be? By hanging a bag you will ride a motorcycle, but it will not work. Guess why?
Because The bag might fall in a sudden and sure way to lose your belongings. It will also block and impede other vehicles on the road. You will notice no one is hanging a bag except you. And thus it can cause your mishaps. Backpacks are useful. You could easily store your stuff in there.
But hanging a backpack behind you in the riding moment, how cozy are you going to be? Yes, you will not feel comfortable too. Besides, it will sweat your back and hamper movement and they are not waterproof so you can't use them in the rainy season and backpacks do not have a large space.
Storage Capacity: No doubt that a motorcycle pannier increases your transport capacity. You can travel by storing all the items in your pocket or backpacks. But there is only limited storage you get. But panniers will present you the extravagance to pack all your belongings and it helps you be free from the pressure you get from carrying a bag on the backside while riding.
Indeed, when you leave your bike, you don't have to bear your stuff with you. Panniers will keep your belongings undamaged for you. So, this is the whole advantage you will get and allows you to put all the focus insensible on the road without worrying about holding the luggage or like a backpack.
Gives stunning looks to your bike: Installing a pannier to your motorcycle will add a beautiful look to your bike. Because, panniers come in a lot of size, shape, and frames, style to fuse with your bike. A stunning pannier can make your bike more attractive. Whether you are a fan of a classic hard case or leather saddlebags, you will find panniers that will surely match with bike provisions.
Comfort and Endurance: A pannier will add more relief when you are ready to go out on a bike. Sometimes, we take items that are liquid. At the riding time, you might keep concentrating on whether they might fall in, which causes trouble at the same time. It is highly racking. So, having a pannier will reduce the tension and will provide you with a hassle-free ride and you will straightforwardly keep the focus on the riding. Also, it will help you with conditional weather. Already we said that many backpacks are not waterproof. Your items will not be safe there. So, panniers will help you with comfort and endurance riding.
Types of motorcycle panniers by materias:
There are some kinds of motorcycle panniers by materials. And these are Hard bags, soft bags, Bags with luggage option and other saddlebags accessories.
These bags can be soft or hard, lockable or not, permanently mounted or removable, waterproof or not, scratch-proof or not however all depends on your bike type, whether you take the bags on walking time when parked, or you do not want to take and leave them into the bike.
Conclusion
There are many other panniers available to pick from the market. But everything(The best option) will depend on the size and feature you are looking for. In our perspective, we would recommend panniers that are lightweight and don't provide extra weight to your motorcycle. The panniers have enough storage to carry your belongings.
You should select a pannier that has the correct dimension, shape, stability, and adapts to your motorbike. Your safety and security are your first fancy as a motorcyclist.
Based on all these facts then consider a pannier. Lastly, you are then ready to go for the adventure ride. Anyway, get them right now and enjoy your ride.
FAQ
How to Choose the Best Panniers For Motorcycle Touring?
Choosing the best pannier can be tough for some time. However, if you can understand your purpose and usability, then you will find out the best one that you should buy from the market.
Why Panniers Must Have Items?
Panniers are a must-have commodity. If you ride a bike or two wheels for carrying, then we would advise you not to carry gears on your body. The best choice would be a pannier, a bag that is attached to your bike rack and does not make it tough to lead.
Do I really need a pannier bag? Can't I just have a normal backpack?
It's a complicated question for every new motorcycle rider. However, if we simply write the answer then we would say, A backpack is realistic when you don't have to carry too much stuff, or you just need to carry some important documents then a backpack would be enough.
As we have written a full guide and reviewed the panniers, now understand why it is better to take them instead of a backpack! However, For large space Go for panniers, and the small storage backpacks will be your option. If you are still confused, convertible pannier backpacks will provide the best of both worldwide.
Hard or soft luggage?
You will not find any correct answer on the Hard vs. soft Luggage discussion. Hard luggage would be the best choice in the city and on dirt. But many riders declared soft panniers that are preferable for long multi-day trips on dirt. Hard cases are suitable for commuting or inner-city riding. Despite that, these are the rider's own choices. No one can interfere with that.