Last Updated on 2 years by Honest Bikerz
Are you in search of the best dirt scooter to gift your child but confused about which one to buy?
Whether you are an outdoor lover or not, one thing you have admired at least once in your life- Dirt Scooters. When everyone is in craze about motorcycles and indoor bike park systems, this particular vehicle category is launched that eventually got much popularity. But you are yet to realize how maneuverable it can be in your busy- schedule life!
You bought a scooter last summer, but it didn't come out to be as you'd wanted. So, as a whole, it was a waste of money. That is why you don't want to buy a new one this summer. But deep in heart, you want it, don't you?
Don't worry, it happens! Each one of us at least once makes some wrong decisions in our life. But as you're reading this article, you still have time to rectify!
In this article, we will walk you through different models of Dirt Scooters and conclude on a decision that you've been waiting for all these days.
Best Dirt Scooter at a glance in 2021
Image
Name
Featurs
Price
Best for Regular use: Osprey Dirt Scooter
1. Threaded headset with 3 bolt clamps.
2. Full aluminum deck and Chromoly steel rear bars.
3. Full stainless steel rear brake.
4. Chunky front and rear, pneumatic rubber tires.
Check Latest Price
Best for any Age Group: Mongoose Expo Youth Scooter
1. It has large, air-filled tires with a knobby tread.
2. Designed with a wide, grippy 14-inch long foot deck.
3. Adjustable BMX-style handlebars are equipped.
4. It has a freestyle handle rotor that rotates a full 360 degrees.
Check Latest Price
Best for Kids: Razor Pro RDS Dirt Scooter
1. It comes with rubbery air-filled tires.
2. Built solid with steel.
3. BMX style tubular steel fork.
4. Pneumatic tires are specially made for dominating in the dirt.
5. Triple coffin clamp for unbeatable strength.
6. Molded Nylon 6 (PA 6) halves with 60 PSI, 200mm wheels, and tires to tackle terrain roads.
Check Latest Price
Best for Adventurous Ride: Razor DeltaWing Scooter
1. Heavy-duty steel foot brake frame with wheels designed for maximum durability.
2. Large pneumatic air-filled front tires soften the impact of riding over uneven surfaces.
3. The low angle is a trailing caster.
4. Front hand-operated brake and soft rubber grips to provide extra alleviation.
Check Latest Price
Best Big Wheel Scooter for Adults: Razor RX200 Electric Off-Road Scooter
1. Off-road rubber tires and disc brakes.
2. Rear-wheel drive for more stability.
3. Chain-driven motor with new gear ratio.
4. A spring-loaded retractable kickstand for off and on-the-go riders.
5. Twist grip throttle.
Check Latest Price
Best for Speedy Ride: UberScoot 1600w 48v Electric Scooter
1. Quick-release seat for sitting or standing both options.
2. LED battery level indicator to know the charge level.
3. Headlight and taillight for a better vision.
4. Smart battery charger.
5. "Posi lock" folding system for easy usage.
6. Dual shock system and key turn technology.
Check Latest Price
Best in Reasonable Price: Pulse Performance Products DX1 Freestyle Dirt Scooter
1. Off-road kick scooter.
2. Reinforced heat-treated aluminum deck construction is a weapon against the bumps.
3. HI- tensile steel fork to absorb impacts for a smooth ride.
4. Stainless steel, a rear brake for precise stops.
Check Latest Price

Best for Short Trips:

Grit D2 Dirt Pro Scooter
1. Heavy duty aluminum frame.
2. Pneumatic Alloy Core.
3. Bars up to 2 heights.
4. Threaded head parts.
5. Soft Feel superior Grips.
Check Latest Price
Best Battery System for Charging: Hiboy MAX3 Electric Scooter
1. 350W electric brushless hub motor.
2. It has three-speed modes, the first one hitting 9, the second one in 15, and 3rd mode tops out at 19.
3. The thumb throttle has a nice textured rubber pad.
4. Expansive deck with a folded design.
5. Self-plug- in an extensive range of batteries for any usage.
Check Latest Price
Top Best 09 Dirt Scooter Full Reviews
1. Osprey Dirt Scooter
If you want a scooter that can cover the ground in a quicker way for commuting, also allowing you to go on long rides- Osprey is your ideal choice. They have powerful brakes in the center of the wheels, and expensive parts may have suspension on both ends.
Since 1994, the company has introduced various remarkable scooter types that have the best control over rugged terrains.
However, there are a lot more key benefits regarding the type of tires, brakes, and color patterns.
Tires
Osprey Dirt Scooters have rubber tires to ensure maximum durability. Bump, and holes in the asphalt won't jar with the high-pressure rubber tires. Unlike the plastic ones, the rubbery tires offer a sturdy mechanism preferable for people of any age.
Rubber with a thick thread (3/32″ to 5/32″) works as an all terrain electric scooter that allows you to handle any type of surface and rocky terrain confidently.
Bearings
The Osprey Dirt scooter comes with a supported CNC Aluminium Hub frame. The wheels are quite large, which takes any obstacle away and makes it a way safer option.
But the problem with this mechanical design is that the wheels seem very tight, which might be the reason for the wrong axis diameter and wrong spacer length. You will have to slacken off the bolts on the wheels to let them roll more easily.
The inner spacer is around 1mm loose, allowing the bearings to be squeezed, and the wheels do not turn freely. So, while riding, it seems to keep wobbling.
Handlebars
The major problem with most dirt scooters is that the handle doesn't offer much grip as needed. But Osprey Dirt Scooters are unique as they have high- traction and anti-slip bar grips. The material used is- Chromoly Stainless Steel which has larger grips than any other material to afford a tricky downhill run!
While using the handles, you'll feel very bumpy pavement and even short bits of grass. At the same time, other handlebars seem a bit crooked.
But the only problem with this part is, the handles come loose and need to be readjusted and tightened before every use. Also, Osprey Dirt Scooter Inner Tube Spare Part Replacement is not that available in the market.
Color Pattern
One of the most attractive things that makes a stranger turn around his head is the color. Osprey Dirt scooters come in six different colors to make them preferable for 6 years old also for the elderly of 60 years.
2. Mongoose Expo Youth Scooter
This scooter is best described as a cross between a start scooter and a road scooter, with the comfortable riding position of a stunt scooter combined with a lighter frame.
When you are fed up with the inline skate wheel scooters and frustrated about hanging up on the smallest pebble but also want to enjoy your leisure time while riding, Mongoose Expo is your best choice.
Unlike other stunt or electric scooters, this model of dirt scooter is made to have a comfortable ride on smooth, as well as urbane surfaces.
Tires
The Mongoose Expo, 12-inch tires, are especially beneficial for their thick width. Thickness is about the section where you can measure how much rubber comes along the surface you're riding through.
Tires with a wide section spread the vehicle's weight over a larger area, increasing grip, especially when accelerating quickly. The thicker and larger contact area of these tires allows for more effective torque transfer to the asphalt and shorter stopping distances.
It also creates a scope to disperse heat in an even way that increases durability in the long run.
Bearings
Under the guise of strong steel frame material, the bearings do not let you fall on the rugged off-road rough surface. The frame is of alloy steel that offers you improved corrosion resistance.
In addition, in most instances, the wide foot deck is advantageous in small or narrow areas. Most bumps, cracks, and irregularities are smoothed out by it. The wheels take less than 30 seconds each to be hooked up.
However, it is far less squirly than other dirt scooters.
Handlebars
The handlebars seem ideal over a long wheelbase. Even the most potholed road becomes its bitch!
These are adjustable- which means you can regulate them according to your height and comfort. It goes up about 2 to 3 inches extra. The board is high enough off the ground that it just scrapes against a curb while heading straight down. It is very suitable for slopes on the sidewalks.
But after a handful of time, the handlebars might be slightly loose, and you'll need a half-turn to keep the handlebars and wheels aligned.
Colors
The product is available in several colors like- green, gray, black, and blue. There is an option to choose a specific color, and the mechanism won't vary at all!
3. Razor Pro RDS Dirt Scooter
If you are hungry for a fun ride on a dirt scooter that is perfect for an "Off- ride" adventure, this is your only choice. Also known as adventure scooters, this specific category of best razor scooter is becoming increasingly common and trendy. Even on Amazon, it's ranked in the top list!
The most popular adventure bikes are available in steel, aluminum, or titanium, with prices ranging very expensive. But the Razor Store has come out of this idea and launched the newer ones with additional specifications. Pro RDS Dirt- Scooters are affordable yet prove how beneficial it could be in your regular scooter days as an All-Terrain Dirt Kick Scooter!
Tires
It has rubbery tires that are specially made for rugged terrain. The tires do not fold or compact, preferable to ride in the gravel and dirt and to jump over ramps.
You can go almost anywhere with this well- built strong material. Without any hesitation, the tires would be very much durable and long-lasting. Earlier, these tires used to be of knobby tires. But now, the manufacturers converted it into pneumatic ones for better luxury. It's a cost-effective buy for smooth and off-road uneven surfaces.
But the problem with rubbery tires is, you can't overload them. There might be premature wear on any part of your suspension.
Bearings
Whether adults or kids, everyone wants a scooter that is fitted smoothly for their riding trip. A slow-moving jerky scooter has become an old version, where Razor pro-RDS bearings' priority comes in handy.
The mechanism includes an aircraft-grade aluminum frame. It is significantly better than typical kids' scooters with small wheels. You can knock it around several times on asphalt; still, it won't make any difference.
Though the outer frame is well made and strong enough, the traction of the wheels makes it slower due to its rubbery structure and heavyweight.
Handlebars
Handlebars are the most important core element of a dirt scooter. If you are an aggressive and reckless rider, it's still perfect because of the lightweight structure of these handles. It offers a soft rubbery grip to ensure proper safety.
It goes fast even after being heavy, and it's smooth over imperfect pavement.
But as the height of the handlebars is not adjustable, it might seem a bit low for the adults. Also, you might find yourself slouching to hold handlebars.
Colors
As we know, colors can play a vital role to sway actions and soothe your eyes. Having these all things in mind, Razor Store thought of giving these scooters a red color to make them more attractive.
4. Razor DeltaWing Scooter
Picking the best dart scooter is not a hard task when you have the option of Delta WIng! Though it's not the first on our list, it's nothing less either.
This scooter with modern structural features like- 3 wheel action and high- tech formula makes it your top priority whether you are joining a race or hanging out with your friends.
It depends on the purpose of your ride which one to choose. But regarding DeltaWing, you can cover any distance, not worrying about your comfort!
Wheels
You will get rubbery wheels in this model of dirt scooter to glide easily with fun. The front (16 inches) wheel is made larger than the other kick scooters to ensure stability. This portion of a wheel can roll this over any small pebble.
But you might find some problems with the back wheels. After some time, it makes a strange sound—the piece where you put your foot, and the back wheels just wouldn't go together.
Handlebars
The size of the handlebars is precisely designed according to the ideal requirement of the riders. They are easy to assemble, which is really intuitive for a kid to ride.
In contrast, the handlebars are locked in a place as they are not adjustable. There is a probability of not matching your preference. Especially for adult ones, this part can't be raised to a higher level.
Rollerblade Action
The Razor DeltaWing replaces your older bike and scooters with a fast, slide to slide rollerblade motion. The special feature of 3 wheel action invites you to become your new go-to mode of endless fun!
Also, the brakes are made as hand-operated ones with rubber grip tape. So, you can easily have a grip and control your speed. The heavy duty aluminum gear structure and high-quality aluminum got some extra coverage for your high-end ride.
Colors
It comes in 2 beautiful colors- Black- Mint, green. You can choose your favorite one with the same specifications and design.
5. Razor RX200 Electric Off-Road Scooter
If someone asks you one question about your decision to buy a scooter, the answer would be "to withstand tough terrain," right?
Keeping all the issues you face now and then as a rider, Razor Store has launched this all-new RX200 Off-road scooter Electric to make it capable of managing your riding complications. As the name suggests, electric scooters are all about a smart installment to your adventurous journey.
In this busy city where you are looking for an eco-friendly ride avoiding traffic jams, RX200 Electric Scooter is your best pick.
Wheels
The scooter is made of rubber material that ensures a smoother and comfortable ride for the consumers. Flat tires have a major influence on regular time management. There is also a scope of less shock-related damage possibility to your scooter.
Also, the rubbery tires would be continuously used to make it the best option for your off-ride tradings.
Brake System
The disc brake and hand-operated brake system add some extra beauty to this popular scooter from the Razor store. Handbrakes, also known as parking brakes, have a direct connection to the rear brakes. When your hydraulic braking system fails, it can work as an emergency option!
This is one of the reasons you get the RX200 scooter at a reasonable price. The scooter bypasses the brake pump, which only includes mechanical hardware—this exclusive system for ultimate drifting and stopping power features high-tech qualities for an enjoyable ride.
Motor
There is a lot of reason for this dirt scooter to be unique, and the motor is the major of that. Chain-driven motors come into the limelight, especially by avoiding slipping. The system consists of an endless series of chain links. Chain-driven motors ensure high- transmission efficiency in operating even in underweight conditions.
High-quality gear ratio for high- torque trail scooter use is another advantage riders get within a very affordable price range. All these specifications are designed keeping the riders' needs in mind. It also includes a battery charger having a battery of 24V sealed lead acid.
Colors
It comes in 6 colors, from red to ash and green to recommend it for age 13 to older ones.
6. UberScoot 1600w 48v Electric Scooter
Suppose you are looking for a top-of-the-line scooter to combine art and mechanism. In that case, this is your premium choice for sure, a scooter that exceeds all the other electric scooters in terms of design, specifications, and appliances.
This electric scooter off road has a range of 12 miles that gives you a promise of a delightful ride. This range can be exceeded by choosing "Economy mode." LED battery level indicator, kickstand, etc., are some additional features that make it exceptional than the other ones.
Wheel
The product comes with air-filled pneumatic knobby tires. These tires were mostly popular in industrial caster applications, but Uberscoot has launched this specific feature of tires in dirt scooters to offer the riders the same feel. Utilized for non- pavement application, the 2 wheel system improves working conditions by reducing noise.
Another great benefit of these 11-inch pneumatic knobby tires is that they won't damage the flooring! The larger wheel is made in a way that never leaves a scratch. But air- pressure must be monitored all the time to keep it newer like the first time.
Speed
Generally, any electric scooter has a range speed of 20 mph. This speed depends on the size of the battery, the power of the motor, and the technical things that make up the frame.
But Uberscoot electric scooters have a speed of about 30 mph. As we know, the battery of these scooters is of high watt and structured together on an efficient alignment. Also, as it doesn't have a seat, it's easier to push the scooter, which is another reason for this much speed.
Battery
We know that, for electric scooters, the battery is the main thing that saves the product or damages it. But as you are reading the specifications of UberScoot, you don't have to worry!
You can go all over town, sidewalks, bike paths with the 250 cycle of battery. You also have an option of getting a lithium battery which would increase the speed of this scooter up to 40mph in the future.
The sealed lead-acid battery is good for durability, but it can be a problem for regular usage as it creates extra heavyweight.
7. Pulse Performance Products DX1 Freestyle Dirt Scooter
When you are tired of having the dirt scooters at a high price but still don't get those as per your need, a Pulse Performance scooter is the only alternative to trust. With this scooter, you'll find no restriction in terms of heavy terrain and narrow surface.
It has an extra-large DXI mechanism which is perfect for regular use to maintain the ride. The reinforced wide, heavy-duty wheels are easier to push and innovative in the industry of dirt scooters.
Wheel
It is a freestyle off-road kick scooter of 2 wheels which is made of wide knobby tires. The outer deck is extra-sized, and the metal is aluminum. These metallic functions ensure your smooth ride with a shock absorption system.
But the back metal of the brake needs to be bent up, so the wheel might even turn. Also, the spacers that fill the gap between wheel and frame don't match sometimes. So, keep these things in mind before choosing your desired one according to your requirements.
Bearings
The bearings of this product are made from high-end materials to ensure better comfort. But at the same time, this is the major weakness of this scooter too!
After some time of riding, the road tires of the scooter might need extra air to be filled. But when you look for the mechanical parts, most of those are not available. Even if you buy those, there is a considerable scope of ending up buying replica ones.
Age limit
The pulse performance scooter is suitable for 8 years old kids. As it is mainly a kick scooter, your kid should handle it easily. These are also road-friendly and space saver. You or your kid can park it anywhere without any difficulties.
The fuel-efficiency feature talks about how money saver it can prove for regular consumption. The ample storage and affordable pricing make it easier for everyone to purchase it unhesitantly.
8. Grit D2 Dirt Pro Scooter
Due to flat bars, mudguards, and luggage space, most scooters are built to be comfortable and easy to live with. For the battery, engine, and control circuitry, there is often a substantial price and weight premium over an equivalent standard.
However, as technology advances, both prices and weights are decreasing; some models also resemble unassisted scooters.
Grit scooters are best for short trips – particularly where storage space at either end is limited – and their portability makes them perfect for when you need to catch a train or bus to get where you need to go.
With high-tech structure and durability, the Grit D2 scooter is the best one to buy your happiness, that too, in your budget!
Brake System
The product comes with a rear brake system. When braking, you should place more pressure on the front brake than the rear brake. So, its sole purpose is to assist the front brake to offer a smoother surface. You can use the rear brake in various ways to bring a vehicle to a complete stop.
In some cases, just hitting the front brake will result in a bike accident because the front wheel will lock up and lose all grip. In such situations, using both brakes in moderation can ensure that you don't skid.
To decelerate effectively, the brake force is distributed according to a predetermined ratio. In response to the ABS unit's interference, this ratio could be changed dynamically in high-end vehicles.
Wheels
Alloy wheels have been more or less prevalent on heavy vehicles and semi-trailers in recent years. The leading cause for this is that they are lighter than steel wheels, allowing the trailer to carry more weight.
Having a scooter with wide and oversized road tires reduces the flexibility of the suspension, which affects both the interaction with the road and the smoothness of the ride. This impact can be reduced by making the wheels out of light material.
However, many – primarily low-cost – aftermarket alloy wheels are not as light as well-made steel wheels. But Grit Pro Scooters are made by Drop-forging. It is a point that refers to the process of forging. This is a little pricey, but the wheels become lighter and heavier as a result.
Grip
Ridged Soft Feel Grips will get you poised to sneak up on your next challenge and ride away unnoticed from those in your way when it comes to your scooter's comfortable grip.
The definitive version of this coarse grip tape is well worth the money. It is very grippy, and there is a big sheet that can be reused many times to tackle unpaved surfaces. It's very transparent, and the color underneath it can be seen.
Its perfect size of 9′′ x 33′′ makes it suitable for almost all boards. Larger sheets with varying levels of granularity are available for more expansive decks and longboards.
9. Hiboy MAX3 Electric Scooter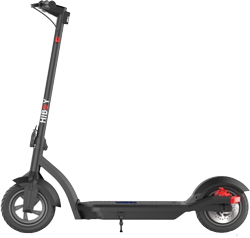 HiBoy recently launched the HiBoy Max3, its third electric scooter and a riser model. The new HiBoy e-scooter is full of fun surprises. The new battery, aluminum extrusion deck, along with a more efficient motor and suspension, gives it a significant improvement in riding distance per charge.
Its overall performance is excellent, and in contrast to the hugely successful Xiaomi scooters, you won't get a flat on this one. It still offers exceptional riding comfort thanks to its front suspension and sturdy tires.
Furthermore, multiple speed settings have been recorded, ranging from beginner to standard to sports mode. So if you are admiring a brand innovation with all the features you've known about, this product is worth a try.
Folded Mechanism
The Hiboy Max's latest folding mechanism is a standout feature. It comes with a foot-activated folding system. The scooter folds down into a comfortable and easy-to-carry position with a quick click of your foot on the latch.
You can now quickly get it into the trunk of your car in seconds with a quick move of my foot. You can also be sure that even though you jump complex, high, and long enough, it will not cave in mid-ride and put you in danger.
Combination Brake
A combination brake is standard on the Max, as it is on most other scooters. Both the motor's electric brake and the rear-mounted disc brake are used in this brake. Even at full tilt, these two together have enough stopping power to bring the scooter to a halt within a few meters.
The regenerative feature of the electric brake means that it recharges the battery when braking.
Bearings
The use of a 10-inch off-road fat tire system is something that is rarely seen on models in this price range. This scooter has pneumatic tires, which do not have the same level of cushioning as solid tires.
The front suspension is a godsend for compensating for the tires' lack of shock absorption. In addition, the tire pump attached to it offers you a luxurious position in aggressive mode.
Double rear brakes are another excellent feature that makes your ride safer by reducing the stopping limit. Hiboy Max has a powerful 36V, 7.5Ah battery that is both quiet and efficient. As a result, the scooter can reach a speed of over 17 mph.
Buying guide: How to Choose the Best Off-road Electric Scooter for you
As you are done with the topic clusters that needed to be introduced in the first place, finally, it's time to head on to a decision!
If it's your first time purchasing a scooter, it would be more of a practice session for you. Then if you are an urbane citizen, all you'll want is a perfect scooter to secure you from the traffic jam. On the other hand, to some people, these scooters are their life-saving option.
So, having a look at each of the specific scooters can be tiring, but choosing the best one according to your need is the most frustrating thing you'll ever face. But as you are reading this article, we've got your back!
Electric scooters are a new addition to the market but also the most popular one in this decade. Here are some necessary specifications you need to notice before buying your one-
Maximum Weight Limit of the Frame
When talking about the frame, folding ones are easy to carry wherever you go. Even then, the maximum weight capacity of the scooter would create a big issue if you want to fold it by yourself. When choosing a scooter, keep in mind how much you'll be carrying and how much time you'll have to fold and unfold a scooter. Consider your shortest time also.
Someone who weighs 200 pounds can easily sit on the deck and even try it standing. That isn't to say that a 250-pound individual will instantly destroy an electric scooter and transform an entire structure into ash. It means that, in addition to poor results, your braking system would be overworked.
Maximum rider weight should be considered in this case as an extra weight slot. You'll want to come to a complete stop at some stage, and if you do so on a slope, you'll have a problem.
Head Lights
Generally, the rear lights are dim when you go somewhere after sunset, and there's nothing we can do about it unless you look for an alternative double vest. It can be mounted on a rear fender brake or a standing deck. It is sometimes connected to the braking mechanism, and when you press the brake pedal, it emits brighter light.
You want the headlight to be positioned higher. When it's tiny, other vehicles won't be able to see you, as well as you won't see them if it's mounted on the vertical tube or handlebar, which leads to accidents.
So, before deciding on a particular dirt scooter, make sure to check out the lights on the scooter and its reflective features.
Wheels
Inflatable and tubeless wheels are the most common types of wheels used on electric scooters. Some versions have two wheels, one that is inflatable in the front and one that is tubeless in the back. Tubeless wheels are made of rigid materials, so there is no risk of puncture. They must be replaced once they become worn.
Larger wheels have excellent stability and are ideally suited to traveling on rough terrain. These specifications are fundamental to look for in a scooter.
Brake and Steering
The braking mechanism on an electric scooter comes in a variety of configurations. Sometimes, a foot brake is located on the rear mudguard, allowing you to stop the scooter quickly.
An electric brake is often included with the scooter to make braking smoother and more convenient. A traditional rear brake operated by a lever on the handlebars may also be present.
On the other hand, acceleration and deceleration are regulated by levers on the handlebars. The number of available speeds can vary, but the method for adjusting speed remains the same. The best scooters offer all these functionalities in the best ever approach.
Are Dirt Scooters good?
Dirt Scooters have gained much popularity in a shorter period for their beneficial terms and easy usage.
Apart from using it as a fun activity, these scooters offer many advantages starting from a healthy lifestyle to a time saver option. Even in Western Europe, people of all ages, significantly above 30, created a new phenomenon and named it the "Dirt Scooter Era."
The newer one launched in 2021 serves different purposes: reducing muscle pain, buttock exercise, belly- shape, etc. In contrast to cycles, scooters are much easier to ride. Where there is a possibility of back pain while riding a bicycle, scooters ensure proper exercise of your back, belly, and buttock.
On the other hand, the cycle only creates pressure on the lower part of our body that can cause stiffness of your leg in the future. But Dirt Scooters effectively enlights the whole body and puts no pressure at all!
Muscle Exercise
When our body bends on a quicker note due to body pressure, the muscles get stretched. So getting the body in the earlier position needs relaxation of the muscle. Riding Dirt Scooters ensures this very step of tightening your loose muscles to enjoy a healthier life.
Weight Loss
According to scientific research, riding push scooters and dirt ones have been proven as a great weapon to battle against obesity. A strict diet and regular medication seem insufficient to lose a decent amount of weight, but a scooter does it all!
You can burn about 0.7 KJ/ per one kg if you ride a scooter at 18 km per hour speed. But a cycle would cause you to double on that. On a bicycle, you can only burn 0.4 KJ/ hour. In addition, where Kayaking is a pain to the elderly, it seems fun when you own a Dirt Scooter.
What is the Difference between a Kick Scooter and a Stunt Scooter?
Having a wide range of scooter options available in the market, it's very confusing to choose a perfect one. And if this is for your child, you don't have an opportunity to find the best solution.
Among the different kinds of scooters popular in your price range, stunt scooters and kick scooters are the most hyped ones. Kick scooters are more like normal day-to-day ones, yet most people consider those to be stunt scooters. But after knowing the specifications of each type, you will understand how different both categories are from each other.
Wheels
This is the first part of a vehicle that makes a big difference. Not only for the scooters, but this specific portion of a vehicle also triggers the quality on a higher note.
Kick bikes have metal wheels embedded into a special kind of "PU" thread. PU stands for Polyurethane. It is a complex composite material that provides higher speed on urban surfaces. It has a length of 100-180 mm diameter to give you extra comfort.
Besides, these wheels give a good grip and are primarily used on a skateboard to ride on the skate parks and standard scooter material. But as a basic wheel, it comes in plastic material.
In contrast, stunt scooters are also made of "PU" material but differ in one significant portion- metal wheels. The wheels have a 250-300 mm diameter, which is much higher than the kick scooters. This is the reason that this category of scooters is specifically known as "stunt" ones.
The wheels of this scooter are the strongest to withstand high pressure tires and generic ease. It may vary a bit in price, but with the benefits it offers, it's worth it.
Handle
This specific component is crucially vital whether you love to show stunts or apply your innovative techniques through scooters. Handlebars are of several types- Z-bar, T-bar, Ape- hangers, folded ones, and so on. According to NHTSA, a handle is a key to a properly secured motorcycle, and without this security, the vehicle can lose control.
Kick Scooters are drafted all over in a folded cover. This design is specially made to ease the movement of your scooter. Handlebars can be folded anytime so that they can be carried away on the backside of a car. But it also indicates the fact that these types of handles are not safe enough to take the exertions of a heavy ride.
On the other side, stunt scooters prefer to avoid the folded mechanism and focus on the breathtaking pressure for extra security. The scooters have a T-bar handle to have an additional piece of the shield while jumping through the streets.
Nevertheless, the handlebars can't be adjusted according to your preference as kick ones.
Types
Manufacturers tend to bring newer models or categories of products when they see the demand for that element. The same goes for the dirt scooters too!
Those scooters are in high demand for their different usage methods; nothing can beat the craze of stunt scooters. And because of that, there are many types and categories of stunt scooters in the market.
For example- Bar height scooters, Deck weight scooters, Deck width scooters, and so on. These are precisely designed to ensure the comfort of your waist and hip space.
Kick Scooters are designated to serve the purpose of a daily commute. These come only in a couple of features like- Quick release clamp, Rare fender brake, and kickstand. As it doesn't have many requirements to fulfill, we have got a few variations of this type in the market.
Weight
Kick Scooters are made of lighter materials as they are meant for regular usage. As a result, the scooters are less heavier and recommended for kids and the elderly.
As opposed to those, stunt scooters are way heavier. One of the primary materials used in these is- Titanium. This talks a lot about why these seem more severe and known to be a safer option.
Price Range
It may vary depending on which model you want to buy. But in general, kick scooters cost a bit less compared to the stunt ones.
Kick scooter has a standard mechanism like- Plastic wheel, folded handle that makes it affordable to most people. The price range varies from $15 to $250, relying upon how much importance you give to which part of the scooter.
But in comparison, stunt scooters have a very high range from $50 to $500. Of course, there are some cheaper ones, but they do not meet the requirements you would want.
The materials used in it for additional trick techniques and comfort are the main reasons for these scooters to be scooters.
Best 3 Brand for Scooters
Scooter is the fastest transport that offers comfort and affordability at the same time, especially in the cities where traffic is a significant issue. Different brands have launched new models and parts to make this vehicle more accessible with the highest beneficial accessories.
Among them, we will recommend the top 3 brands for Scooters you can rely on without any hesitation.
Osprey
The Osprey is our first brand of preference as the lineup has it all you can expect. Started in 1994, the company has become a worldwide supplier of the best dirt bikes- white, black and of many other varieties. For over 20 years, they have been producing scooters that ensure better luxury with an eco-friendly ambiance.
Osprey is the right choice for investing your trust with a variety of scooters appropriate for all ages and capabilities.
Osprey Dirt Scooters are made as rugged all terrain scooters and are unlike any other scooter on the market. These are extreme off-road moped scooters that have been put through their paces in challenging dirt tracks to ensure flawless functionality.
Rugged bison-sized pneumatic huge tires, long-lasting chrome handles, stern aluminum decks are only a few of the performance-enhancing features available on Osprey. These eroad scooters have earned a 5- star rating across the world which is one of our main reasons to recommend them.
Razor Store
This is our other favorite pick for its incredible features and benefits. It started its scooter journey in 2000 when they thought of experimenting with something new. Not to mention, Kick Scooters were made the global sensation of Europe only after when Razor launched those with the best possible durability.
Since 2000, they've sold more than 50 million scooters, establishing themselves as the world's leading scooters innovators. Based on 20+ years of experience, they always prefer to ensure extra care to the family. From manual scooters to electric skateboards and turbo-powered heel wheels, Razor has shown magnificent growth within the scooter industry.
Mongoose
Mongoose is a worldwide recognized brand that relies on the quality of innovation. In 1974, the founder Skip Hess invented the Cast- magnesium Motomag wheel in his workshop, and that's where it all started!
All their designs to offer the best luxury touched so many people that only after two years in 1976 was it a top-seller brand. Though it is mainly known for the freestyle BMX from the early days of their company, mountain bikes and miniscot have also been the reason for their popularity.
There are also some famous and high-end brands like- UberScoot, Swagtron, Apollo, etc. But to clarify your confusion to a greater extent, we've just categorized these into 3 single brands . This motorcycle scooter review would help you in the long run for sure.
Conclusion
Knowing about a product newly launched in the area seems fun until you decide to buy it yourself. The process of thinking to buy something to finally buying it according to your preference is never an easy task.
We hope that, to some extent, this information would be helpful for you while choosing the best dirt scooter. Also, if you have any queries, don't hesitate to let us know in the comment section!
FAQ:
Why do you Need an Off-road Scooter?
Off-road electric scooters are invented with a unique mechanism to go through rough terrains and narrow roads. These are different from the typical commuter ones as you can enjoy a hassle-free natural ride on an electric scooter. 
For protection and safety dirt scooter are in a great role.
It also proves as a money saver as you don't need to fill oil in it. The maintenance cost is lower compared to any other category of hyper racing scooter found in the market.
In contrast, riding a bike or motorcycle can cost a lot more, waste your time, and don't offer much availability. So, as a whole, 2 wheels or 4 wheel off-road electric scooters serve you better in all the way you can expect.
What Is A Dirt Scooter?
A dirt scooter is the same as a regular scooter that has an advanced rugged system to tackle deep terrains.
When people were bored of using the same type of kick scooters with no method of running smoother on narrow roads, this specific category was launched in the market. 
These scooters also allow you to perform stunts having a solid structure. The larger wheels with air-filled knobby tires, variations in outlook, and rechargeable battery increase its durability on a higher note. 
No matter what your purpose is, dirt scooters ensure all the safety measures with high-tech benefits.
What Makes a Scooter Great for Riding in Dirt?
Scooters have already become a significant part of our daily work life. Now the important thing is to know the elements for choosing a great scooter to ride in the dirt. These are some easy yet small things to take into consideration-
1. The Larger the decks are, the more the possibility is to have a comfortable ride.
2. Lighter scooters are easy to ride on slender paths.
3. The friction zone of the clutch should be precise.
4. Pneumatic tires are preferable to knobby ones.
5. Steering and brake parts should be of high-end materials.
Where Can A Dirt Scooter Be Used?
Everyone can ride a scooter, but what they can't do is- hang with all the precautions in mind. In terms of a scooter, almost every person wants to own one that enables them to perform actions, as well as go on an enjoyable tour.
Though the name suggests dirt scooters, it's not apparent that you only have the opportunity to ride on the narrow roads. The newer and innovative ones are made to run on a pitch-road, muddy road, flat pavement, and almost anywhere you want!