Last Updated on 2 years by Honest Bikerz
Whether you're a professional or rookie dirt bike rider, you may fall into trouble for not choosing a reliable bike mounting for your dirtbike. What would you look for into a dirt bike stand to mark it as the best? Well, a best bike stand should be made with durable still construction, oftentimes should bear resemblance to wide dirt bike stand dimensions, and support the motorcycle up from the frame.
Triangle, Fixed, Lift, Hydraulic- these are the common types of motorcycle lift stand. The bike stands are most compulsory if you want to avoid repairing your bike repeatedly and easily follow the bike maintaining procedure.
You'll find hundreds of manufacturers claiming their bike stands better than others. Every dirt bike lift stand is different based on its weight, height, and But, here we have come with the 10 best dirt bike stands review that would help you to justify which one is compatible with your dirt bike. So, tune with us till the end of this content.
Best Dirt Bike Stands in 2021- At a Glance
Image
Product
Details
Price
Goplus Swingram Paaddock Dirtbike Stand
1. Maximum weight capacity 12.13 lbs/ 5.5 kg.
2. High-grade powder-coated steel structure.
3. 4 wheels reinforced.
4. Suitable for most motorcycles.
Check Latest Price
DOS ON Dirt Bike Lift Stand
1. 25.2cm- 46cm height adjustability.
2. Anti-slip rubberized pad.
3. Maximum lifting weight 330 lbs/ 150kg.
4. Solid Steel Construction.
Check Latest Price
Pit Posse Universal Off-road Dirt Bike Lift Stand
1. 11"-15"(low), 12"-17"(high)- adjustable deck height.
2. Heavy aluminum frame construction.
3. Oil & gas resistant extra-thick reinforced rubbery top.
Compatible with Suzuki, Yamaha KTM, Honda, Kawasaki.
Check Latest Price
Risk Racing 00381 Dirt Bike Stand
1. Adjustable ATS Magnetic top & side plates.
2. Large hole for oil drain in the center.
50cc & Uplevel any type bike.
3. Aluminum turnbuckles reinforced with locknuts.
Check Latest Price
Zeny 1100 LB Dirt Bike Scooter crank Stand
1. 1,100 lbs weight lifting capacity.
2. 9" wide rubbery surfaced deck.
3. Fits most bike models.
4. Great to use at the track, in the shop, or garage.
Check Latest Price
HomCom Portable Bike Repair Rack
1. Solid steel construction.
2. 330 lbs weight lifting capacity.
3. Height adjustable- 9.65"- 14",
Anti-slip top rubber band.  
Check Latest Price
Goplus Hydraulic Dirt Bike Stand
1. 300 pounds weight limit.
2. Maximum height from 15-inches to 38 inches.
3. Anti-slip rubber pad platform.
4. Easy foot pedal operation.
Check Latest Price
YitaMotor Dirt Bike Lift Stand
1. 25.2 cm- 46cm height adjustment range.
2. 330 pounds weight limit.
3. Top plate dimensions- 28cm x 17.5 cm.
4. Universal fit type.
Check Latest Price
Specstar Swingram Spool Paddock Combo Stand
1. Heavy-duty steel with black powder-coated polish.
2. 440 pounds weight limit.
3. 4 roll wheels with adjustable width arm.
4. Both front and back wheel lift.
Check Latest Price
JFG Dirt Bike Lift Jack
1. Height adjustment range- 25.2cm to 46cm.
2. 330 lbs/150kg maximum lifting weight.
3. Top plate size- 28cm x 17.5cm
Sturdy steel construction.
Check Latest Price
Top 10 Best Dirt Bike Stands Detail Review By Honest Bikerz
If you don't have dirt bike stands, you'll face trouble while trying to fix your dirtbike and there'll be no other option rather than to visit the bike workshop. But, the question is how to make the right pick and choose the absolute valuable dirt bike stand for your vehicle.
The most common facts that one should consider while buying a stand for the dirt bike include height, weight, storage space, durability, and budget. Our top 10 picks of bike stand for sale is enlisted after well-researching based on these features.
01. Goplus Swingram Paaddock Dirtbike Stand
Best Adjustable Rear Stand
Our first pick, the Goplus dirt bike stand comes with the promise of making your work more efficient and much easier. If you are looking for a bike rear stand that allows you to lift the back end of your motorcycle in any situation, then this one is the right option for you.
Unique design
Kawasaki 140, Aprilia Rs50, Sujuki Bandit series, Honda Rebel, BMW 12000rs, Yamaha R3, CBR 1000, CTX 700- whatever dirt bike you name, the adjustable arm of this dirt bike stand allows you to accommodate different sizes of motorcycles. Its unique width convertible arm design results in dirt bike lift from 28-inch to 34-inch. So, you can use this dirt bike lift stand for most motorcycles.
Performance
This Swingram Paddock heavy-duty steel construction stand with red finish is less endangered to external shocks as well as damage. You will see at the handle and upright that it comes with 4 wheels and sealed reinforcements. This helps the lift stand to reduce the shaking and increase its stability. If you want a long lasting performance then this one is a good choice.
Assembly
This fairly lightweight stand is very convenient to assemble. With the simple instructions, one can easily finish assembling the stand in just a few steps. Additionally, this bike lift stand is easy to use as well. You just need to put the stand on the back wheel bolts and then step down on it. Your bike will pop up right on the lift stand.
Versatility
This widely used motorcycle lift stand can be used for different sizes of dirt bikes. The Forks of this stand hoists the bike's back end from even the front end.
These sports bike stands work great and you can get this at an affordable price. If you have CBR 1000rr, Honda CBR 500, or, even 2020 MT-07; this dirt bike stand would be a great buy for you.
02. DOS ON Dirt Bike Lift Stand
Best Portable Stand
For most riders, it is a very common thing to repair and maintain their bikes. So, they would need to take the bike stand from the garage to the trail, the track, or the shop. This adjustable lift stand with portable design from DOS ON allows you to take it with you wherever you go.
Solid Construction
Constructed with solid premiere material such as high-grade steel coated with anti-rust powder, this heavy-duty stand becomes a superior platform for bike storage and maintenance.
Height adjustability
You can easily control your offroad bike while lifting as the height of the deck is completely adjustable. You can comfortably adjust the range from 9.92-inch to 18.11-inch according to your bike. Additionally, there is a lock nut on the adjustable top plate which ensures 100% safety.
Non slipping
No worry, if you're about to place this rust and corrosion resistant stand effectively, prevents your bike from slippage. Wondering how? There is a durable anti-slip pad made of rubber on the upper surface.
Safe design
Is your bike a heavy-load one? Then this repair table is just for you. Its large lever safe design allows you to lift your heavy weight motorcycle easily. No strained shoulders and pinched fingers.
Convenient to use
Due to the widened upper surface, you'll experience great performance while lifting the two wheels of your bike off of the ground. This bike repair stand uses damper shock to handle the descending of the motorcycle.
In the end, we must say that at a very fair price you're getting a good quality portable design bike lift stand. It makes your task much easier to put on the bike on a traditional stand for storing.
03. Pit Posse Off Road Universal Bike Lift Stand
Best Standard Stand
If you're tired of unreliable, heavy wobbly motorcycle lift stands, and searching for a reliable one that you can take with you on the way, then this one is one of the great options. The Pit Posse dirt bike jack is made following the 20 years of excellent service of the manufacturer.
Convenient size
This universal bike stand comes in a small size that you can easily carry in your van or trailer. You may need to check up, oil change, or any preparation of your bike on the go. This stand from Pit Posse makes it more convenient to wash your bike or apply grease or lube on the chain.
Controlled and safe bike lifting
There is a wide and stable base with a foot-operating release trigger equipped with this stand. By stepping on the simple foot lever you can smartly lift your bike on it. The adjustable deck height feature allows you to choose a comfortable working height between 11"-15"(low) and 12"-17"(high).
Strong construction
The Posse Scissor Floor stand is made of durable aluminum and the foot lever is constructed with 6061 high-grade die-cast aluminum. So, this motorcycle work stand comes with exceptional durability and stability.
Safety
The reinforced top of this bike stand is equipped with extra-thick gas and oil-resistant rubber. So, your bike will remain in place after lifting and won't face slippage issues. Without giving much effort, this bike master stand is able to lift your bike making your job easier than ever before.
This dirt bike lift stand is not wobbly or flimsy. It's sturdy and trustworthy for your regular use. You don't need to struggle anymore to get your dirt bike on a fixed lift. This rugged stand makes things smoother when you're working on the bike.
04. Risk Racing 00381 Dirt Bike Stand
Best Magnetic Dirt Bike Stand
If you have a deep observation, you'll realize that a chassis meant for every dirtbike brand, model, and year is particularly customized. And, that is the reason all dirt bikes won't fit well on a traditional stand.
You may find that your bike's front or rear wheel is very near to the ground after placing it on the stand. Also, the unfit skid plate may affect the angle by leaving the motorcycle dangling low on any one side. Risk Racing brings to you a universal solution to this "low dangling tires" issue.
Introducing you to the Magnetic ATS bike lift stand by Risk Racing featuring two anodized, locknut embedded aluminum turnbuckles, and CNC.
Adjustable Top
Any bike from 50cc and up sits level on the magnetic adjustable top surface. This ATS Magnetic Bike stand comes designed with lock nuts reinforced aluminum turnbuckles. This helps the user to set the stand's top angle and lock it. As this bike lift stand brings both of the wheels of your bike in the air, servicing and cleaning are easier than before.
Magnetic Side Plates
When you repair your bike, it's a common scene to see nuts and bolts left everywhere. Risk Racing brings an innovative solution to this problem by bringing magnetic both-side plates embedded in the bike stand. By utilizing this brilliant product, your maintenance procedure becomes more organized.
Durable Material
This ATS bike lift chassis is made with powder-coated robust steel. This allows it to go through the abusive life of the bike stands.
Universal fit
The combination of a hard-wearing, oversized, thick, and chemical resistant anti-slip mat and a wide drain hole gives this stand a rugged design, This innovative feature allows any bike regardless of how large it is on this ATTS bike stand.
However, if you overlook the price range, you'll experience a versatile performance from this motorcycle work stand.
05. ZENY 1100 LB Hoist Bike Stand
Best ATV Lift Stand
As you're on a search for an ideal lift for your dirtbike to use during maintenance and cleaning, why not give this Center Scissor hoist stand a try.
Design
The black and red combination makes this lift stand to look much more attractive. Solid steel construction makes this durable.
Versatility
This power jack suits most bike types. You can use it in the shop, garage, or at the track.
Stability
One of the most important things that you look into a bike lift is how stable the item is. And, this bike stand will pass your test for sure as this dirt bike jack features an anti-slip rubber pad, which holds the bike bottom. So, no chance of slippage and scratches as well.
Simplicity
This 1,100 pounds maximum weight limit scissor dirt bike lift jack is a very simple and unique product. It's equipped with a simple flat-bottom crank operation.
Those who are searching for a small jack stand that comes in at a bargain price, and good for minor regular maintenance as well as detailing your dirt bike, then this one deserves a try.
06. HOMCOM Portable Bike Repair Rack
Best Overall Lift Stand
Every rider knows how important it is to keep up with the regular maintenance schedule of the bike. This lift is designed to continue a consistent schedule and keep you riding. Featuring a large lever, height adjustability with a non-slip rubbery top, and portability, the HOMCOM bike stand allows you to take it anywhere you go.
Construction
Designed with heavy-duty steel frame construction, this motorcycle stand lift provides a rugged platform for your dirt bike. During storage or maintenance, it keeps your bike stable.
Full Elevation
The wide upper surface hoists both the tires off the floor. This allows the user better access to repair, maintenance, as well as storage.
Portable
Being surprisingly lightweight and convenient sized, you can carry this lift wherever you need from the garage to the trail.
Non-slipping
During storage and maintenance, you must not want any slippage incident. That is why; this lift stand comes equipped with a non-skid rubber pad on the upper surface.
Design
Most riders experience strained shoulders and pinching on their fingers while lifting their bikes. But you won't face this type of trouble with this moto stand lift as it comes with a large lever bumper bar design.
Despite this downside, this dirt bike chassis is a well-built good one that you can get at an approachable price.
07. Goplus Hydraulic Motorcycle Scissor Jack
Best Scissor Lifts Design Dirt Bike Stand
Here we introduce to you another innovative designed hydraulic jack lift by Goplus. This dirt bike jack not only creates a reliable platform for supporting during bike operation, but it also comes with an offer of longevity.
Design
This hydraulic bike lift comes in a safety design that includes an anti-slip hard gum plate lift table along with springs. This feature results in a sturdy and safe stand. The embedded locking bar avoids accidental lowering while you raise the platform up to a working height.
Capacity
If you have a small motorcycle, then this hydraulic lift is ideal for tinkering on that. With a bearing capacity of 300ponds of item weight, this stand is equipped with center foot pedals, which makes this great ATV stands for lawn tractors dirtbikes mopeds, and others.
Height
This lift height starts from 15-inches and the extended height goes up to 38". With enough height lifting ability, you don't need to kneel or stoop on your motorcycle while working on it.
Rubberized platform
While using this jack, users will experience a stable platform for the dirt bike that uses rubber padding. This wide rubber-padded upper surface gives protection to your bike from scuffing, scratching, and scraping while occurring metal-on-metal contact.
Simple foot pedal operation
The easy foot pedal method allows you to raise and lower your bike easily compared to the traditional bike lifting method. This labor-saving bike lift includes all related hardware to mount the dirt bike to stand firmly.
Apart from this drawback, this scissor lift is extremely well built and durable. It is one of the must-have tools for the dirt bike mechanic in your life.
08. YITAMOTOR Adjustable Dirt Bike Lift Stand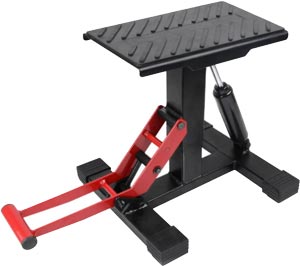 Best Lift Stand for Universal Fit
If you are looking for a universal moto stand lift that comes at a reasonable price, this stand is a pretty good option for you.
Design
This dirt bike lift jack comes in a smart design constructed with heavy-duty powder-coated steel. Its corrosion and rust-resistant durable anti-slip pad prevent your bike from unwanted slippage.
Adjustable deck height
The completely adjustable desk of this stand is suitable for most dirt bikes. With a maximum height lifting range up to 46cm, the adjustable locknut embedded top plate ensures safety.
Capacity
With a 28cm x 17.5 cm top plate, this bike stand can bear heavy weights up to 330 lbs.
Easy to get it together
You'll find no stress when assembling this bike stand. Also, you can easily raise and lower this dirt bike jack. The safety pin-equipped arm won't let this chassis get lost.
If you've seen only one shortcoming, this bike stand is a solid one to give your friends, family, and motorbike enthusiasts.
09. SPECSTAR  Universal Sport Bike Stand
Best Dirt Bike Lift for Multiple Uses
Whether you have heavy street bikes or full-sized bikes, these street bike stands by SPECSTAR are suitable for most motorcycles.
Design
This motorcycle front and back wheel hoist stand are made of a solid steel structure equipped with 4 wheels. It's stable enough to lift up the vehicle's front and rear wheels. The excellent adjustable width design of this stand suits any bike.
Versatility
Whether you need to lift up your bike wheels separately or together, this versatile stand allows you both.
Premium materials
This MX bike stand is made of high-grade black powder-coated steel. With one purchase you can use this motocross bike lift for years after years as it is rust-resistant and durable as well.
Convenient to use
This Swingram Spool Paddock bike stand is one of the necessary and perfect tools for road motorcycles and racetrack. You will experience an effortless assemble and disassemble process. Also, you can save your energy and move the dirt bike easily on it with the help of 4 wheels and the circle handle of this bike lift.
Reliable
This simple foot lever bike lift is stable enough to bear up to 440lbs item weight. Its embedded front and back wheels provide you easier repair and maintenance situations.
On a function to dollar ratio, this dirt bike stand is really good. While a lift stand is one of the best ways to work on your bike, this lift jack makes your life so much easier working with these at an approachable price.
10. JFG Racing Motorcycle Lift Jack
Best Foot Lever Operation Bike Stand
If you're looking for a heavy-duty bike hoist stand at a fair price, then this Motorcycle Dirt Bike Lift Jack by JFG Racing is at number 10. You'll be surprisingly impressed by its overall performance that makes your bike maintenance-related tasks easier than ever before.
Height
The most common issue that a biker faces while using a bike hoist stand is collapsed height. This results in discomfort at doing repair and maintenance-related tasks. But, the JFG Racing dirt bike lift fits most bikes with the complete height adjustment range. You can set a comfortable working height between 25.2 cm and 46 cm.
Capacity
With a (28cm x 17.5 cm) top plate, this dirt bike jack can bear up to 330 lbs weight. Its solid steel construction allows you to hoist your off-road bike with full control and less effort.
Safety
While safety is one of the important facts that you look at in street bike stands, this moto stand lift assures you of that. There is a safety pin attached to the arm of this bike stand. It allows you full control of your bike and prevents losing the grip on your bike.
Function
With a simple foot lever operation, this dirt bike stand is easy to assemble. All you need is to put it under the bike, set the height adjustment range till it touches the bike, step on the foot lever.
If you are thinking of going for it, you will be pleasantly surprised to see the sturdiness of this motorcycle stand lift. Also, the lock is very easy to use and it's not dangerous or flimsy. This simplistic dirt bike lift jack is a good value product for the price and works perfectly.
Why put a dirt bike on a stand?
Most of the dirt bikes for road riding or MTBing are designed without a kickstand as thus the bikes shave some weights off. And, there is another potential reason to not equip kickstands with dirt bikes. While a rider is in the middle of jumping on extremely dangerous tracks with the dirt bike, there is a possibility to trigger the kickstand unintentionally or get it stuck in the high grass or biker's pants and causing accidents.
So, what to do when you're not riding the dirt bike? Using dirt bike stands is a better solution to keep the bike upright while not in use.
A motorcycle lift stand is very convenient while clearing the bike, repairing it, and simply storing the dirt bike in your garage. Just put your bike on the motorcycle stand and keep it risk-free. This stable platform will protect your dirt bike from being tripped over, and also the best dirt bike stand is perfect for getting the bike wheels off the surface.
How tall is a dirt bike stand?
While choosing the best dirt bike stand, the height positions of it are one of the important things you consider about. You will rarely find a bike stand that comes with the feature of the common size that fits all.
For example, what would happen if you bring small sports bike stands for the large bikes? It would be a useless step undoubtedly. The same thing would happen if you pick a large one for your small motorcycle. Though there would be sufficient space, still your bike won't fit properly or remain balanced on it. As every bike stand is particularly different in size, you have to choose the appropriate one based on your bike size.
How do you put a dirt bike on a stand?
A dirt bike stand is one of the compulsory arsenals of tools. But that doesn't mean you have to hoist your over 200-pound motorcycle onto a plinth. Let's show you simple procedures of getting your dirt bike on a platform without worrying about a hernia.
The first thing is to get the bike your hands on. It's very important how you do it. When you grab it, it's always said to take it by the center. Never grip on it by bike's pipe or wheel as it is too far.
When you grab it don't just lift it with your hands. The best and easy way to manipulate the bike is to squeeze down a little bit and do a little squad while grabbing your bike.
At the same time, use your hip to lean the bike on you. Use your hands just to keep the bike on your hip.
And now lift it balancing on your legs.
Once you have it, you can maneuver it wherever you want.
Is it bad to lay a dirt bike on its side?
Unless you accidentally drop your dirt bike on its side for a short amount of time such as several minutes won't be detrimental. But, it would be harmful to the bike if you keep it laying on its side constantly for a longer period.
What would happen if your dirt bike has been laying on its side for more than days, weeks, or even months? In such a case, it's obvious that you would face several external as well as internal issues with your bike.
Due to some common instances such as losing balance, or moving the bike with your hands, or preventing impact; whatever the reason is, an almost 400lbs dirt bike may face a crack or dent on its gas tank.
Laying your dirt bike for several minutes on the side won't cause much internal damage. But, if the dirt bike remains on its side for a long period then you may face several obstacles such as hydrolock, battery acid leaking, cosmetic damage, etc.
But, not to worry! We have some useful tips for you to fix up issues that are caused due to laying your dirt bike on its side for an extended period.
You'll replace the bent parts or scratches of your bike. Another thing that you can do is soak up oil in the spark plug hole with a rag.
But, make sure you don't drip anything in the spark plug hole; otherwise, it will damage that cylinder.
While stuffing a rag into the plughole, make sure you pull out the spark plug controlling the fuse from the fuse box, or else you can cause more damage to your bike or electrocuting yourself.
Now try the kickstand, or hit the start button to crank the bike engine. Yes, we know due to pulling out the fuse, the bike won't get started, but it will help to reach the oil towards the rag by forcing the piston up and down in the cylinder.
Make sure your rag gets pretty much oil onto it.
Now reinstall the plug wires into the hole, and keep the fuse back into the previous spot.
Your dirt bike is all set up to run correctly again.
Final Verdict
So, now you have got an overall idea of the 10 best dirt bike stands.  We understand that every need, occasion, and priority is different. Keeping that in mind, we have come with this shortlist of top picks of dirt bike lift jacks. Choose any based on your requirement. Trust us you will not regret it!
Frequently Asked Questions
What's the highest height the dirt bike stand reaches?
Well, the extended height of a motocross bike stand varies from model to model. Most dirt bike stands come with a common height adjustment range of 10-inch. And, others provide ground clearance that goes up to 38-inches.
What hole sizes the dirt bike wheels stand support?
It depends on the dirt bike lift stand model. Usually, a best dirt bike wheel stand supports enough ample space that levels any bike.
What is the dimension of the best dirt bike stands?
Again, it varies from model to model. For example, our above-mentioned best Lift Stand for Universal Fit by YitaMotor's dimensions is 13×10.2×12.2 inches. On the other hand, our top pick best adjustable rear stand by Goplus comes with 59x47x13cm.
What is the weight of the dirt bike lift?
Some bike stands work well for smaller bikes, while the others fit well for larger ones. Usually, an ideal dirt bike hoist stand can bear up to 330lbs item weight.