Last Updated on 2 years by Honest Bikerz
You are here to know about motorcycle helmets with built-in Bluetooth. We listed here the latest built-in Bluetooth motorcycle helmets which will work for you.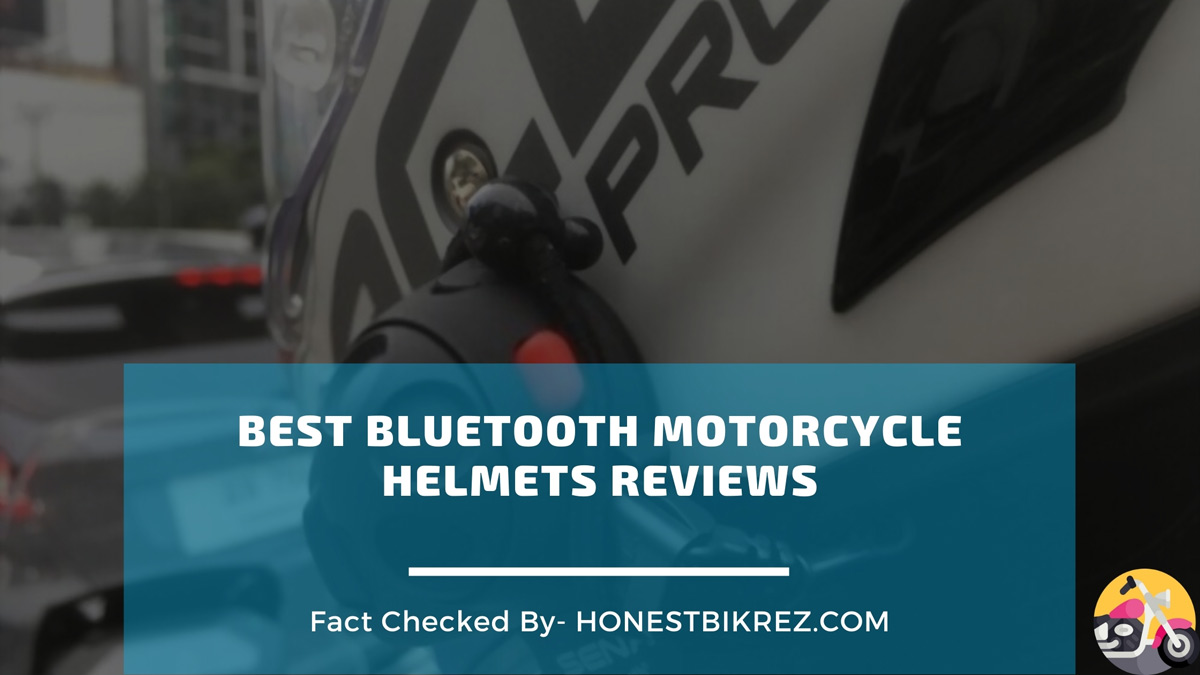 For a motorcycle rider, the helmet is a protection warrior in the frontline compared to all other protection gears. In the previous decade, riders usually looked for safety only. Design and other additional features had less appeal. But time has changed!
Our team has done wide research on Bluetooth Motorcycle Helmet keeping in mind the safety measure, inbuilt audio quality, and advanced Bluetooth noise suppression technology supports to find the best Bluetooth-enabled motorcycle helmet.
We have spent time gathering the safest motorcycle helmets with Bluetooth motorcycle communication reviews from the users, the actual user admiration, and the problems with those. We have selected the best Bluetooth full-face helmet from different brands within a reasonable budget. Don't randomly choose one unless you complete reading the whole! You may not know what you are missing.
Best rated Bluetooth motorcycle helmets in 2021 at a glance
| Image | Name | Talk Time | Standby Time | Price |
| --- | --- | --- | --- | --- |
| | Best Overall: FreedConn BM2-S Helmet with built in bluetooth | 8 to 10 Hours | 300 Hours of standby | Check Price |
| | Best Choice: ILM Modular Helmet with built in Bluetooth | 12 hours phone talk time. 8 hours helmet intercom talk time. | 110 hours of standby | Check Price |
| | FreedConn BM12 motorcycle helmets with Bluetooth communication | Up to 12 hours for phone, 9 hours for helmet intercom | Up to 300 Hours | Check Price |
| | 1Storm Modular Helmet with built in bluetooth | 10 hour phone talk time, 7 hour helmet intercom talk time | 300 hour of standby time | Check Price |
| | FreedConn DOT Helmet with built in bluetooth | 8~10 hours talk | 300 hours of standby | Check Price |
| | Sena CAVALRY-CL-MB-S Matt Black Helmet with built in bluetooth | 10 hours of intercom talk time | 300 hours of standby | Check Price |
| | TORC T15B Helmet with built in bluetooth | 24 hours intercom talk time | 600 hours of standby | Check Price |
The 09 Best Bluetooth Motorcycle Helmets Review in 2021 (Latest Bluetooth Helmet)
Below we listed the best Bluetooth-enabled motorcycle helmets for 2021. We hope you do not need to go any other places to find honest reviews of motorbike helmets with built-in Bluetooth. Let's start to find a stylish helmet with built-in Bluetooth for you right now.
1. FreedConn BM2-S Helmet with built in Bluetooth
You will find most of the Bluetooth helmets a little pricey due to their additional facilities. But FreedConn never destroys your expectation of saving your money as well as getting the attractive features a rider may need. FreedConn BM2-S is the best Bluetooth-enabled motorcycle helmet we have ever found.
Main Features
FreedConn BM2-S is an ECE and DOT-certified Bluetooth helmet with lots of variations of colors. The interior design and outlook will catch your attention easily. The safety measure will let you not worry for a second.
The regular helmet with Bluetooth 3.0 noise suppression technology provides you the opportunity to communicate between two riders while pairing with three. high standard helmet intercoms, Music with clear sound, and the GPS navigation system will make your riding experience more convenient and enjoyable.
The 1 multifunction button will provide you a one-touch single button function. You can receive calls, dial, radial, or reject the call easily with one-touch only. The activity range for the Bluetooth service is 1640+ feet. You will get an 8 hours helmet intercom facility with 110 hours standby mood.
Instead of having few issues, you can hardly avoid the regular helmet for its attractive facilities. If you know the common basics you can fix every problem you are facing with FreedConn BM2-S. And if you are a big fan of music during any ride or adventure, the sound audio quality will amuse you, for no doubt.
2. ILM Modular Helmet with built in Bluetooth
Looking for modular motorcycle regular helmets with built-in Bluetooth? This ILM modular flip-up full face is the best motorcycle helmet with built-in Bluetooth which takes the second place of our choice.
ILM stylish helmets are one of the most used helmets in the world. ILM offers users the Bluetooth helmet and the most desired facilities with it riders can expect within a limited and very short price range. With the most advanced noise suppression technology, ILM ensures the DOT and ECE certification.
Main Features
This is a good Bluetooth motorcycle helmet. The first noticeable feature of this regular helmet is being used over a range of 1000+ feet which will surely cover a reasonable area for the riders. Moreover, the Bluetooth facility lasts for 8 hours simultaneously within its 100 hours standby mood.
It is supported by most of the headphones with Bluetooth 3.0. The built-in Bluetooth system will provide the opportunity to connect two riders at a time. The audio quality built-in speakers are advanced stereotypes. You can check out the navigation facility. The music and FM facility will help you to forget the disturbance one your mind.
The Bluetooth control is super easy to handle even with the gloves on your hands. The one-touch control for answering, dialing, receiving, and rejecting incoming calls is pretty amazing. The washable microfiber liner and adjustable vents make it more valuable. The comfort from the interior building will amaze you.
Though the stylish helmet may create a noticeable noise to your ears and the front tinted visor will be foggy sometimes the users are often found to appreciate the inbuilt audio quality and the comfort it provides. The super flexible motorcycle Bluetooth helmet can be opened up with one hand and most importantly it is safer than most other motorcycle helmets with Bluetooth you will find under $100.
3. FreedConn DOT Full Face motorcycle Communication System Helmet
You will not find a sexier one in the measurement of lightweight with Bluetooth facility. It weighs only 3 pounds amounting to 1.4 kg. Though it's not a heavy Bluetooth helmet, surprisingly it is gigantic and fit safely to your head.
Features
FreedConn BM12 is supported by most smartphones with its 1600+ feet range. 3 riders can pair at the same time where two of them can communicate at a time. This DOT-approved Bluetooth helmet will keep your hands free by its one-button control for the call. Moreover, You can auto receive, auto-dial, or call the last dialed number through this.
The mentionable feature of this Bluetooth helmet is its advanced noise suppression technology. It also has the DSP echo cancellation technology so that you are not bothered by the music sound when you need to hear the horns. More exciting news for you! Along with DOT Certification, it exceeds CE/UL/BQB standards.
The device stands for up to 300 hours and remains in your service for 8 hours after a single charge. The Bluetooth helmet will send you a notification when the rechargeable battery is low.
What we like:
It's lightweight and the interior comfortable padding.
The sound quality is quite excellent on the headset even at high speed.
The air circulation system is too good at a hot temperature.
The noise reduction technology prevents you from unnecessary sounds.
What we don't like:
The Bluetooth headset is quite rashy.
The charging port of the headset is a little fragile.
Having little issues with the headset doesn't lose its appeal to the users. This is very popular among riders who have an interest in music and noise suppression technology. We could hardly ignore this one!
5. 1Storm Motorcycle Modular Full Face Bluetooth Helmet
You can't avoid 1 storm HB89 if you want to hunt for the best modular dual tinted visor Bluetooth helmet. The first impression of its design will catch your eyes. It might be the best bet with a smart design with an affordable price and a Bluetooth facility.
Features
This model of 1Storm is designed with integrated Bluetooth and a spoiler. The most attractive feature of this one is wireless motorcycle communication with a distance of 2600+ feet between the riders. You can add up to three riders at a time. On a single charge, you can connect with other riders for up to 7 hours.
It is supported by most smartphones and navigation systems if you have Bluetooth 3.0 noise suppression technology. The standby time is up to 300 hours surprisingly! The DOT-approved Bluetooth helmet holds the advanced modular and dual-lens design. Also, you can easily receive phone calls with one-touch technology, can mix up the music as you wish, FM radios, and whatnot!
What we like:
It's an amazing 'look' and a dual tinted visor facility.
The long intercom range.
The compatibility with almost every smartphone.
What we don't like
The dual visor of the Bluetooth helmet has a tendency to be scratched easily.
It becomes foggy very easily.
Many users found a problem in matching the size of the Bluetooth helmet. The wind noise is too much for a few of them. It fogs very easily as it lets a lot of wind come inside the Bluetooth helmet. This is one of the best-certified ones on our list.
5. FreedConn DOT Full Face Bluetooth Helmet for Motorcycle
While reviewing this Bluetooth helmet we found this one with the extraordinary build audio quality. The interior is one of the best on our list. FreedConn will provide you with a helmet mic, receiver, and inbuilt Bluetooth system with its interior comforts.
Features
The Bluetooth helmet will offer you the privilege of communicating with two other riders and the range is quite satisfying. It is 500 meters. While hanging out with your buddies you need not worry about their location. With Bluetooth 3.0 you can connect your smartphone, make a phone call with 2 built-in premium speakers.
The easy control system has made this model more popular. The echo cancellation technology and overriding the intercom, navigation, or music during an incoming call are noticeable. The advanced noise suppression technology for FreedConn's this model is the Android Voice command system by long-pressing the MFB button for 2 seconds.
It will provide you 9 hours long intercom service with 12 hours phone call duration and 120 hours standby mode once it is fully charged.
What we like:
The design and the stylish lightweight feature
The one-button press technology for receiving calls.
The inbuilt audio quality and the comforts of the interior
What we don't like:
The audio is tiny and on high notes, it cracks down.
The flip-down sunshade can be easily broken.
The problem with the drop-down sun visor will not carry a lot of toll on your decision we hope. This is a full-face Bluetooth helmet and so comforts, security with Bluetooth Installation are challenging for any Manufacturer company. However, we like this model of FreedConn.
6. Sena CAVALRY-CL-MB-S Bluetooth Helmet for Motorcycle
Sena Bluetooth CAVALRY is one of the most popular and comfortable half-shell Bluetooth helmets. When you are looking for a half-shell helmet as well as Bluetooth facilities, it should be quite tough to find the one with a reasonable price and audio quality. But Sena Bluetooth CAVALRY will meet your expectation for sure.
Features
With the composite fiberglass half shell, this Bluetooth helmet will provide Bluetooth 4.1 noise suppression technology. The inbuilt FM radio and mic will cover your necessity. The noticeable feature is its 10 hours talking time and advanced noise control, noise reduction technology. The standby mood will support the rechargeable battery for up to 8 days.
It meets the DOT as well the CE, FCC & IC safety standards. The working range for this Bluetooth helmet is 900 meters. Isn't that impressive? You can connect to 4 riders at a time. You will get a fully integrated seamless speaker. The advanced voice quality noise suppression technology will help you to enjoy a crystal clear sound. Sena CAVALRY weighs less than 1 kg.
What we like:
The lightweight and its aerodynamic, low profile half shell construction.
It can connect to 4 riders at the same time.
The latest 4th generation Bluetooth technology.
Its wide range of connections and charge-on-the-fly-mood. You can use it while charging.
Removable and washable headliner facility.
What we don't like:
The ear caps fall off easily.
The less protection compared to the full-face Bluetooth helmet.
The tab of the padded chin bar strap is made of low-quality leather.
For a long ride, the Bluetooth rechargeable battery system often creates problems during the charge on the fly mood.
Every Bluetooth helmet has few issues, we can't deny but this one is the best bet for your money if you are looking for a half-shell Bluetooth helmet with the latest Bluetooth technology. No wonder, it can satisfy your thirst for good qualities.
7. TORC T15B Bluetooth Full Face Motorcycle Helmet
You are an expert rider with a lot of experience and if you know how a low-quality Bluetooth helmet can damage your journey and even life you are probably a fan of TORC T15. And if you are still not a big fan let us enlighten you with the amazing sporty outlook and the safety measures of this Bluetooth helmet.
Features
It's a race-inspired design with a rear spoiler for wind buffering. The advanced ventilation system will prevent vibrating at a very high speed. What else do you need? While coming to the Bluetooth facilities, its range spans up to 1300+ feet and 24 hours of continuous intercom talk time. It's quite remarkable compared to the other Bluetooth helmets at this price range.
You need not worry about safety as it meets the DOT safety standards. The blink technology in the intercom will provide a clear hands-free communication surety.
The headset will work one-touch function and allow you to answer and dial calls supporting most smartphones available. The fitting is nice and comfortable even if you have a big head.
What we like:
The washable liner is removable and the shield is scratch-resistant.
Excellent air ventilation system.
The long rechargeable battery life.
The super protection of eyes from the sun due to interior drop-down sun visor quality.
What we don't like:
A slight whistling sound while riding at a very high speed.
The Bluetooth charging port can be tough to locate. As it is situated on the backside of the Bluetooth helmet.
Once you break the Bluetooth helmet in, you will find the Bluetooth helmet a little loose.
If you are a big fan of good design and rides regularly on off track this Bluetooth helmet is quite suitable for your choice. You can hardly ignore the Bluetooth facilities with a hot look.
What is a Bluetooth-compatible helmet?
Bluetooth-compatible helmets are helmets with Bluetooth technology inbuilt inside it. What you get here is a short-range network system. And so you need not carry an extra Bluetooth attachment with you while riding a bike.
A Bluetooth helmet provides you a large facility like communicating with other riders within short-range, GPS facilities, listening to music. Bluetooth is a wireless technology that allows users to communicate or share files within a short-range.
Bluetooth Helmets are safeguards for riders though it's tough for the riders to communicate over the phone while riding. With the advancement of technology, smart designs allow the helmet to carry a Bluetooth facility inbuilt in it.
Why Do You Need a Bluetooth Helmet?
Let's imagine a scenario! You are riding with a group of your friends on a long drive. Everyone is riding a different bike. You will often need to talk with others during your journey right? And you always do not prefer to stop your bike and talk to everyone. Right?
Then what will you do? Probably talking loudly to your other friends. Or sometimes finding your phone and calling through it. And keeping one hand busy or talking directly to the other riders creates a distraction. And you know what the consequences might take place?
At a high speed, distraction is one of the main causes of bike accidents on road trips. You turn your head over and maybe, you don't notice another car coming from the opposite side. Then what? Boom!!!
This is the main reason you need a Bluetooth helmet while riding your bike. And you will be getting a GPS navigation system installed. That will help you not to worry about where you are going or what the location is.
The extra facility is listening to music as your wish by integrating them into your smartphones.
Can You Add Bluetooth To a Motorcycle Helmet?
A good Bluetooth motorcycle stylish helmet can make your life easy. Either a comfortable regular helmet is designed within an inbuilt Bluetooth communication system or anyone can install it. So, yes! You can add Bluetooth to a motorcycle helmet. The customization is not that much tough a job to do.
The hands free communication device must be added to the left side of the helmet to make the right hand free for riding all the time. At present time, technology allows you to add a dual system. You can add more than one Bluetooth. you can add an extra one and use both of them.
Can You Add Bluetooth to Any comfortable Helmet?
Not all comfortable helmets will provide you a Bluetooth facility and also the Bluetooth will add an extra buck to your budget. Even if your helmet doesn't have the facility you can always add Bluetooth to any helmet.
The helmet is either set-up or you have to set it up on your own. In either way, the function will work the same. The wires pass underneath the helmet allowing connection with other wires in the helmet. You have options for adding flat speakers if you wanna add them. The speakers will be outside of the helmet or you can just add the earphone piece.
Do Bluetooth Helmets Play Music?
That's one of the jobs the Bluetooth technology in a helmet performs. Listening through earphones is quite tough while riding your bike.
Modern technology allows you to connect the tooth to your smartphone and listen to whatever music you want. But at the same time, it ensures that it doesn't hinder the outer sounds (horns, another car, or motorcycle passing by.
Motorcyclists are allowed to listen to music while riding but it's quite dangerous for them if they use normal earphones during the ride. Noise-canceling earphones are okay. But the best option is the Bluetooth headphones as these are designed to allow the outer sounds smoothly compatible with the music playing inside.
Best built-in Bluetooth motorcycle Helmet Buying Guide
Everyone needs to consider the things that are more important for a comfortable helmet while buying one. In case you prefer the Bluetooth helmets for your ride you have to look for the other few perspectives like security, designs, where are you using the helmet, the inner sound quality, and overall comfort.
Still, confused about the process? Let's find out what is bothering you. We have prepared a buying guide considering the most user's tension while choosing a Bluetooth helmet. Just read through the facts which you need to consider before buying one.
Voice prompt
Few Bluetooth systems require a manual setting for making a call or receive one. That's quite inconvenient. Because this facility will be at its best when you are hands-free and easily call anyone or check the navigation.
Ergonomics
When you are choosing a lightweight helmet expecting a good music motorcycle communication system make sure that you can easily connect and access the controls. If the controls are difficult you will mourn your money later. So, go for the one with simpler functions.
Numbers of riders
It's quite important to decide how many riders you want to be connected with. It will be frustrating for you to use a lightweight helmet that only connects to two users through the Bluetooth system while you need to connect with more.
You also need to consider the range of the Bluetooth ability. You probably are not choosing the one with 500 yards range capability while you need a larger range. Be careful about that!
Where you will use the helmet
Are you planning to buy a Bluetooth helmet for adventure? Or you will be stuck with the city road trip only? Make the decision first. Because you will be needing a long-range Bluetooth helmet when you are riding with a lot of obstruction around you.
Where you will be riding will help you to decide the exact model of the helmet. You will not prefer to be in hassle while going on an adventure with a short-range Bluetooth helmet. Right?
Sound quality
The sound quality for the music and the voice while communicating is an important thing to consider before buying a lightweight helmet. The signal strength must be clear and strong with the ability to overcome noise around you.
Make sure your expected d model has a dual stereo speaker to have a clear connection. Don't forget about the anti-noise mic.
Additional features
The advanced technology provides a few additional features like a camera and GPS. The camera system will add the extra facility of recording your journey and the GPS will track your way down helping you with the information of your way and location.
Decide whether you want these facilities in your helmet. That will probably help you for shortening the list you have primarily made.
Design and style
There are different kinds and styles of helmets you will find on the market like a full-face, half-face, open-face, dirt-bike, racing-bike helmet, off-road helmets. Choose the type you need with the Bluetooth facility. You will certainly not prefer choosing an off-road helmet while you are planning to ride on city roads.
Remember, a full-face helmet covers almost every portion of your head and ensures maximum safety.
Set the budget and go for it
It's quite easy to get confused while searching for a suitable and affordable helmet for your head. The Bluetooth helmet is one of the pricey sides and. Though you will find a lot of helmet models within a short-range too.
Set your budget and make thorough research based on the consideration we have mentioned earlier. Look for those that are affordable to you.
Unless you set your budget with the expected facilities you will be puzzled easily.Don't think that the helmet will be the best at the most expensive price only. The best one is that which meets your expectation after ensuring the safety measure. Check if you have any preferable brand for the helmet and whether they provide you a Bluetooth helmet within your expected price range.
Final Verdicts
A Bluetooth helmet is always a smart choice for the modern generations. Do you want extra privileges with safety measures? You have to pay money. The Bluetooth helmets will cost you a little more but who doesn't want the smart facilities?
The shortlist of Bluetooth helmets from different brands and models will surely help you to identify the expected one within your budget. You need to be a little bit cautious while using Bluetooth helmets as it needs to be properly handled. The music system will surely please you to your ride but you know what consequences may take place if you are unconscious while listening to it.
Before buying a Bluetooth helmet, don't be amused with the Bluetooth facilities only, make sure your helmet has met safety standards. Unless you are safe with your helmet on, Bluetooth facilities will surely not save your life. Remember, soul and safety come first.
Frequently Aksed Questions
What is a Bluetooth motorcycle helmet and how does it work?

Bluetooth motorcycle helmets are helmets designed with wireless Bluetooth technology that allows the riders to communicate within a short range of distance. Also, connecting to the smartphones one can receive phone calls or listen to music through it.
Behaving like a friendly supporter in an integrated Bluetooth system, you need to install and pair the Bluetooth function first. A microphone is located outside of the helmet through which you can speak frequently. The internal wires are connected. But the combination procedure is wireless.

How much are Bluetooth helmets?

The helmets with a Bluetooth facility are a little bit expensive starting from around $150 and run to about $400. The extra oil adds extra bucks to the castle!
But there are exceptions. You will find Bluetooth helmets within $1500 too that will provide you famous brands. No doubt you can spend more than $1500 too.

How do you hook up a Bluetooth motorcycle helmet?

To hook up a Bluetooth motorcycle helmet you need to follow a few particular things. Remember that there are two ways to hook up: to cut open the helmet and the other one does not require any exterior changes.
If your helmet has hands free communication between riders, there is no need to open up but if the factory doesn't add the facility you have to cut it to fit the helmet. If you are thinking of hooking up the Bluetooth system without any exterior changes you don't need to cut the helmet. Just a few interior changes will take place.

Do Bluetooth motorcycle helmets interfere with other electronic devices?

You might be thinking and worried about the interference of other people with your Bluetooth system installed. What if others steal your signal or hear the conversation you are making?
Hold on! You need not worry a bit. The modern problem requires modern solutions! Every Bluetooth helmet from different brands and models has a different connection range and most of them. The limited range is the reason no one from a wide distance can interfere with your communication with the rider. Only electronic devices close to your location can discover your existence.

Can you use Bluetooth with a half helmet?

When you are worrying that you will not probably find any half-face helmet with Bluetooth facilities, maybe the factory is producing a half-face Bluetooth helmet every second. Even if you are not interested in spending extra bucks to buy one, you can easily add a Bluetooth system to your half-face helmet. And it's not tough to install.