Last Updated on 2 years by Honest Bikerz
Why do you need an open-face helmet? Yes, it might be your personal choice. But certainly, some benefits pull a motorcyclist to choose the open-face Helmet rather than the fully covered one.
A best 3/4 Motorcycle Helmet means- let the wind come on the face, ultimately stopping suffocation and excessive sweating. For the helmet user who has a suffocation problem (cannot breathe properly inside a fully covered motorcycle helmet), we suggest a perfect Best 3/4 Motorcycle Helmet for him/her.
You will find many motorcyclists, who are madly in love with their motorcycle, but they rarely have any love for the Helmet! Avoiding a helmet is not only a matter of carelessness or bringing a chance to crush the head. Moreover, it is also the state law requirement to wear the Helmet and ride the motorcycle on the demon road.
I am not stopping you from a fully covered helmet. Still, a perfect selection of the best ¾ motorcycle helmet could enhance your riding quality, remove your death wish, and also could protect yourself from all sorts of helmet suffocation.
Wearing a perfect helmet is crucial to riding on a motorcycle. So if you are a newbie to riding a bike, you have come where you need to reach.
We have organized today's session to find the best ¾ motorcycle helmet. Let's read our article and discover what we have included usually.
Best 3/4 Motorcycle Helmet at a Glance
Image
Name
Main Features
DOT Approved?
Best for low profile unit users: Daytona Cruiser Motorcycle Open Face Helmet
Removable, snap-on, glass black bubble visors.
Quick release lock.
It has a sleek, countered shell.
Interior of the helmet is fully lined with a formed interior.
YES
Check Price
Best for Communication Systems: LS2 Rebellion Motorcycle 3/4 Half Helmet
Adjustable twin shield system.
Kinetic polymer alloy with nanotechnology.
Easily Removal Liner.
Onboard a proper ventilation system.
YES
Check Price

Best for Safety with Modern Features

: LS2 Helmets Open Face Spitfire Helmet
Adjustable two-position drop-down sun shield.
This helmet has two outer shells.
It includes classically styled goggle straps.
The multi-density EPS liners.
YES
Check Price
Best for security: TORC Unisex 3/4 Retro Motorcycle Helmet With Graphic
Faux suede liner.
Multi-density EPS.
Padded Chin strap with D-ring.
Easily removable visor.
YES
Check Price
Best for it's Lightweight Features: 1STORM Motorcycle Open Face Helmet
Includes two types of visors- inner smoked visors and outer clear visors.
Heavily cushioned, easily removable, and washable interior.
YES
Check Price

Best for Extra Security

: ILM 3/4 Open Face Motorcycle Retro Half Helmet
Includes cotton lining, multi-density EPS, and ABS shell.
Adjustable chin strap.
Also includes retractable visors.
YES
Check Price
Best for Cafe Racer: TCMT 3/4 Retro Vintage Motorcycle Helmet
ABS shell with double D-ring chin strap retention system.
Anti-scratch, 3-button detachable, easily removable visor.
Removable and washable interior pads.
YES
Check Price

Best Quality for the Money

: Westt Rover Motorcycle Helmet
Quick-release buckle.
Retractable sunglasses.
Anti-scratch outer visor and integrated sun shield visor.
Vents for inflow and outflow air.
YES
Check Price

Best Design

: MMG Motorcycle Cruiser 3/4 Shell Open Face Helmet
An adjustable chin strap with D-ring closure.
Bubble snap-on visor.
Fully lined interior.
Include adjustable windproof goggles.
YES
Check Price
Best for Round Head: SOXON Mono Open Face Helmet
The helmet has scratch-resistant wind visors.
It has a metal security ring.
The helmet has a one-handed Click-n-Secure quick-release fastener.
Partially washable and removable liners.
YES
Check Price
Top 10 Best ¾ (Open Face) Motorcycle Helmets Detail Reviews in 2021
1. Daytona Cruiser Motorcycle Open Face Helmet
When you need a most popular open-face motorcycle helmet, Daytona helmet could be your best choice. This item is best for all low profile unit users. The soft dull black finishing blends with the customized interior of this helmet, making it lucrative, long-lasting, and of course, very comfortable.
Riders can want to wear a good helmet depending on many features and techs. Suppose both the interior and exterior design, sweat dissipation facility handling of moisture passing, and so on. Daytona has a breathable interior by which you can take your breath as normal.
Plus, it has DOT approval. Your helmet got DOT approval means; it will take care of your head and face from any crash impacts. The only limitation is no-limit is the fact that the helmet is not intended for sports. As it is a cruiser helmet, users should not use this unit for sports-related reasons.
So what is the most important matter about this safety unit? Yes, it has 3 Shell sizes. This helmet is an awesome feature, responsible for a suitable fitting on the user's head. Plus, the removable gloss back visor and the fast-release lock help the helmet user detach the visor easily without affording much.
Finally, you might be thinking about why we have included this product on our today's list. This product has a three months money-back guarantee. So the advantage of such a product is, you can use it for two months, and if you find any problem, you can take the initiative to return it.
Additionally, it is one of the best motorcycle helmets for an affordable price. So without thinking even twice, you can just select this unit.
Why You Should Buy Daytona Cruiser Motorcycle Open Face Helmet
The helmet is a DOT-approved helmet, thereby helps the user to protect the head from any crush situation.
3 Different shell sizes make this helmet allow the user a suitable fitting with an extremely comfortable feel.
Customizable interior formation offers comfortable helmet wearing. Plus, the insider foam can soak all sweat and moisture to avoid any disgusting insider feel.
This helmet has a removable snap-on visor with a faster release facility. So need a minimum to afford and time to detach the visor.
2. LS2 Rebellion Motorcycle 3/4 Half Helmet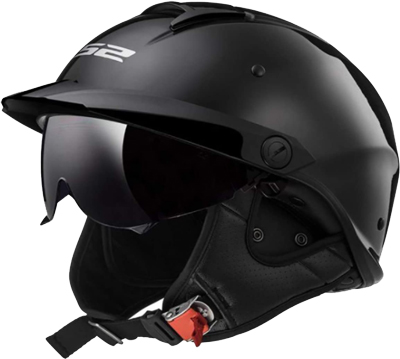 Let us explain why you need an LS2 motorcycle helmet. Though it is your head protector, there is another thing: we suggest this beautiful motorcycle helmet to our clients. And the thing is, it has Bluetooth seamless LS2's linking communication System. This system helps the rider both for the rider to rider and rider to passenger communication systems.
Then the second thing, the quality construction of this helmet; the hypoallergenic technical fiber lining is removable, washable, and thus moisture wicking. So what do you need more from a helmet? It has very precise engineering; it works well to offer all users flow-through ventilation.
Though we are categorizing this unit as an open-face one, you can use it for the full protection of your head and look. An adjustable twin shield system helps to drop down the sunscreen with a ¾ way downing capacity.
This helmet already got DOT approval, thus can ensure quality service for a long time. Plus, it is lucrative and contains all the necessary technology to make the helmet shell durable and sturdy. First of all, this product features high-pressure thermoplastic techs. It also has an aerodynamic shell for delivering stability when the user rides at a higher speed.
This product has two visors, peak plus sun, therefore users can ride against heavy wind, and no harmful UV rays can harm them. We may not have said that the optical correct face shield included in this unit helps defeat the wind, harmful rays, etc.
Besides these, the helmet comes with a super-fast release system. Users can very quickly add or remove the shield. And interestingly, assistance or tools are required to do this job. And as the face of this helmet is fog-resistant, users can enjoy a crystal clear vision at any time.
To offer an excellent ventilation facility, it has well channel ports. The enter & exit ports pass air as needs, and ultimately, it becomes so breathable, comfortable, and vice versa.
One more thing we missed to inform you, the last cut foam cheek pads of this helmet. This pad works to shock the sweats or excessive moisture, thus making the total inside environment very comfortable and rush-free.
Why You Should Buy LS2 Rebellion Motorcycle 3/4 Half Helmet
Fog-resistant face shield to avoid any claustrophobic feel at the time of riding on the motorcycle.
Helmets have an adjustable twin shield system to control the amount of light or air entering the helmet.
It features a DOT approval, FMVSS 218 Standard, and CARB (California Air Resources Board) requirement to ensure a quality service for a long time.
This unit also features channeling ports to become a well-ventilated helmet for all users. And the positive fact is, users can turn off the ports if they need it at the colder sessions.
3. LS2 Helmets Open Face Spitfire Helmet
This LS2 helmet is special because it has precisely engineered vents, dropdown visor with crystal clear finishing. What it's called! A product with beautiful fitting and excellent quality!
Instead of a standard D ring, it has a great ratcheting chin strap, making this motorcycle unit more handsome and more user-friendly.
It has some other fantastic features as well. Like, the integrated slide down sun visor, comfortable interior, rightly fitting on the head, and the graphic and design it has.
The LS2 Spitfire helmet is a ¾ open face unit, which features a classic but trendy bobber style. Furthermore, two rigid but decent outer shells allow the helmet user to enjoy a small and lightweight division on the head.
The classically styled goggle strap, rather than the backdated one, is included here. However, the interior of spitfire is featured with a multi-thickened EPS; thus, it is hypoallergenic and fully removable too. A complete washable liner constructed with multi-thickened foam (comes with laser cut) therefore easily fits with the user's face curve.
It is one of the most futuristic helmets, never letting you displace from the set of any capable rider. The manufacturer of this unit tried hard to produce a compact and lightweight helmet that can resist the weather or debris that lets it come in.
The regular motorcycle riders, especially those who are very serious about motorcycle safety but also aware of getting the gentle breeze on their face—no doubt LS2 spitfire could be a great option for them.
Mentionable short features from this motor safety gear are- Pull-down sun visor, Open face nature, Low price point, A Micrometric fastener, Goggles loop, and so on.
However, when searching for a helm for enduring your hundred percent securities, a full face is your best option.
But searching for the best performing modular helmets pulls you towards one LS2 Spitfire. It is one of the A+ helmets, also will take care of your head from any crush elements.
Why You Should Buy LS2 Helmets Open Face Spitfire Helmet
3D laser cut hypoallergenic padding, which is fully removable and washable.
Faster release chin straps (DOT approved), which you can even handle using your gloved hand.
Thermoplastic ABS shell to make the unit more rigid and durable.
Integrated pull-down sun visor with two inbuilt sun shields.
4. TORC Unisex 3/4 Retro Motorcycle Helmet With Graphic
TORC offers a minimalistic and open-face helmet for the title-owner easy riders—the lightweight ABS. Shell presents a fully comfortable helm interior which again features a removable suede liner coating. So if the rider needs a gentle cradle or a scalp breath, this feature will help get both.
Like any updated helmet, this unit also comes with a visor to protect the user on sunny days. This visor is removable, therefore, user-friendly as well.
Another good point of TORC, for which this product deserves thousands of thanks- as an open face helmet- can make down the huge roadside noise in a good manner. Riders who are core and trying to get an exceptional level during bike riding deserve this motorcycle helmet.
It comes to dominate over other brands with the Federal Motor Vehicle Safety Standard (FMVSS) 218.
T-50 becomes ideal and popular because it has- faux suede liner, Multi-density EPS, Padded chin strap with D-ring closure, Removable visor.
Moreover, it also got DOT approval, for which it has become one of the most efficient helmets nowadays.
Why You Should Buy TORC Unisex 3/4 Retro Motorcycle Helmet
Low profile design plus faux suede leather.
Removable visor.
Multi-density EPS formulation to make the unit weigh very light and durable.
Padded chin strap along with the D-ring closure to offer an easy and faster on/off.
5. 1STORM Motorcycle Open Face Helmet
If you search for the best DOT helmet with an excellent value-definitely 1storm would first place on your selected list. It is so light in weight; even it is softer than a half-helmet.
1 Storm looks pretty good, and not even bad for the price as well. The in-built sun shield also works very well here. The half-clear protection included here is perfect for the warm weather. It has a spacious space to hold the earbuds very comfortably.
This saw will become your favorite because it is most comfortable, user-friendly, and features the most quality construction from the manufacturer's end. This power tool offers a very suitable fitting. And it provides no side-to-side play option here.
The chin straps off even offer the right fitting.
The matte black color brings an extreme value to this helmet, making it one of the best ¾ motorcycle helmets of the year. For scooter-type devices, this unit will go on.
Mentionable short features of this safety unit are- Advanced dual visors, Double shield design (Inner layer is smoked lens plus smoked or tinted outer layer lens). It is one of the ultra-light units, as it is made from a durable aerodynamic thermoplastic alloy shell. Therefore the total unit becomes very well and carryable as well.
The outer layer of 1 Strom is sturdy and durable. The inner layer is different from the outer layer. That means it is heavily cushioned with a comfortable interior. The interior is removable and washable. Moreover, the UV-protected finish protects the helmet wearer from the harmful rays of direct sunlight.
Finally, it is DOT approval motor safety gear that can make your day full of joy and security.
Why You Should Buy 1STORM Motorcycle Open Face Helmet
Advanced dual visors or double shields design ( Inner smokes plus clear outer lens).
Aerodynamic thermoplastic alloy shell.
Heavy cushioned and comfortable interior that is easily removable and washable.
UV protective finish, glossy and beautiful.
6. ILM 3/4 Open Face Motorcycle Retro Half Helmet
ILM 3/4 Open face motorcycle helmet is a perfect motorbike safety gear both for men and women. The retro design combined with the vintage look makes it an awesome helmet featuring the DOT technology. It gathers its reputation from the last century, becoming the classic helmet blending both with retro & modern techs.
Yes, all helmets are for safety purposes. But if you wish to get the helmet with the most updated safety constructions, undoubtedly, it will be the great one-the structures of this helmet with ABS engineering plastic which is sturdy, strong, and durable.
Besides this, the high-density EPS buffer layer included in the manufacture of this unit makes it capable of decreasing the impact-related strength.
It has an awesome capable feature of an adjustable chin strap. This feature allows the users to enjoy a quick-release chin strap which is further equipped with a chin pad. So this total system helps to accommodate the unit according to your head size.
Moreover, the high-quality liner (breathable, absorbent, skin-friendly, and mesh) keeps the helmet almost as fresh as new. As it also has removable ear pads, therefore these can easily wash as well.
As it is one open-face helmet, so it could be considered for all seasons. Riders can use this unit to shower their face with the gentle breeze/wind. You might be aware of the advantages of an open-face helmet, and it helps the user add extra face masks, wear sunglasses, bandanas, or goggles, and so on. So it is both practical and stylistic.
If you are a female motorcyclist and are hesitating to find a suitable helmet for you, this item will comply with your needs. It is one of the ideal motorcycle helmets, suitable both for female or male motorcyclists.
Why You Should Buy ILM 3/4 Motorcycle Retro Half Helmet
The helmet has sturdy construction using ABS shell plus multi-density EPS materials.
It already got FMVSS-218 and DOT approved, so it has the most quality service.
Retract actable visor for a customizable face look plus adjustable chin straps for faster chin strap release.
Versatile usage for dirt bike/motorcycle/scooter/moped/cruiser/UTV/ATV and other street bikes.
7. TCMT 3/4 Retro Vintage Motorcycle Helmet
The brand new gloss white color TCMT adult motorcycle helmet becomes one of the major safety measures for all sorts of motorbike riders. It is relatively very fast, and can ensure the road demands safety a hundred percent.
Once you measure your head size and order this helmet for you, the retro look of this product plus the tinted eye shield will offer you some wonderfully useful safety measures.
It is one of the great motorcycle helmets! The price, even the color choices, all are so nicely recommendable and can serve the purpose it intends to do.
TCMT is available from size M to size XXL (from 57 cm head circumference to 64 cm.). However, the inner package comes with one open-face TCMT helmet, one sun visor, plus one helmet bag.
Significant features from these products are-Double D-ring chin strap, Anti-scratch 3-button detachable visor protects, and so on. It is one of the most durable and sturdy helmets, which doesn't bother its users with a heavyweight. The lightweight it has comes from the Ultra-lightweight ABS shell.
However, TCMT is a fashionable, trendy, and good-looking product. The ¾ open face design makes it one of the best ways to get wind on the face when riding on the road.
The visor included here works even over the glasses offering a long time riding even in a tough place.
Why You Should Buy TCMT 3/4 Retro Vintage Motorcycle Helmet
3-Button detachable visor to protect the user's face and eyes from the harmful rays of the sun.
Compatible with head circumstances 57 cm to 62 cm. (sizes from L to XXL)
Manufactured using ABS shells to make it is so light in weight.
Double D-ring chin straps.
8. Westt Rover Motorcycle Helmet
Believe me or not, Westt Rover will show you such a pretty helmet design. I am sure not only you but most of the helmet users also have not even seen it. The mess of so many helmets is the only one that makes itself very standard with a retro style and smart look.
The first mentionable fact about this best ¾ motorcycle helmet is- it has featured enough protection power it just needed to be. The integrated sun shield visor (anti-scratch) here ensures extreme protection from harmful UV rays.
Additionally, it comes with sunglasses to make itself more protected and secured from rough outer areas.
Interestingly the cool retro style look is the main reason why most helmet users love it. But some other reasons like it has DOT approval, a comfortable interior, which makes itself more ergonomic and demandable.
There is no doubt; it is one of the smartest helmets nowadays. The patented NFC buckle at this moment can store your emergency medical data and sync your smartphone etc.
As I said before, it has dual visors (one is outer, which is anti-scratch, and another one is integrated for sun shield purposes. Moreover, the comfortable interior bears plus features. It is removable and washable.
Thankfully, this gear is equally perfect both for male and female motorcyclists. It is approved all over the USA. And as it is a multipurpose gear, so suitable for Motorbikes, Vespa, Scooters, other four-wheelers, and bicycles.
Why You Should Buy Westt Rover Motorcycle Helmet
A quick-release safety buckle to easily and quickly on/off the helmet.
It has soft, comfortable, removable, and washable interior padding.
The helmet has two visors (anti-scratch outer plus integrated sun shield) to protect the user from harmful UV rays.
The helmet has a colorful retro style with a good look design.
9. MMG Motorcycle Cruiser 3/4 Shell Open Face Helmet
MMG is one of the best ¾ motorcycle helmets, which is open face type. With the gorgeous matte black color, it is made from lightweight, aerodynamic materials. The aerodynamic manufacturing of this unit makes it usable for casual commuters, including others too.
So why did this helmet come on our list? Because it meets all helmet requirement specifications with an affordable range. The Department of Transportation for US Safety Standard already approves of this product. It is one of the easiest safety gears even for the newbie as well.
Though it is like the old-school design, it is modified all over through comfortable padding. With precise engineering, it is very satisfying to all sorts of faces with a capability of keeping very secure and protected. The padding is easily removable and washable at any time for your better convenience.
One of the major advantages of this helmet is-it is more scratch-resistant than others. The clear windshield plus the wide vision field makes it more useful and protected from any rush-related scenario.
MMG has several sizes (up to 23.2 -23.6 to 59-60cms). So before purchasing it, measure your head size, then compare the required size you need for you. If you want a retro look on your helmet, this unit is fairly comfortable for each person.
Why You Should Buy MMG Motorcycle 3/4 Open Face Helmet
Adjustable chin strap with D-ring closure.
Bubble snap-On visor.
Fully lined interior to ensure an added comfort.
Adjustable windproof goggles free.
10. SOXON Mono Open Face Helmet
Crystal Blue SOXON comes with a textile leather inner construction. For cruiser or touring type vehicles, it can be used as road safety gear for all users.
This unit is 100 percent legal. It got its DOT approval. Extreme quality artistry and precise engineering are involved in making this product useful, sturdy, comfortable, and durable.
Not only the DOT approval, but it also got N325 regulations permissions that make sense to make this product approved all over USA roads.
Let's come to explain the features, makes this product so capable for all motorcyclists. It has a Quick-release-fastener. The European style (One-handed Click-n-Secure Quick release nature) feature of this fastener makes it qualified for an easy opening and closing of the helmet even after wearing the hand gloves.
This unit has a perfect fitting. The lining is super soft and comfortable. It is removable and washable, too, as it is washable, ensuring clean and odor-free usage frequently each month. SOXON is skin-friendly. The smooth interior it has provides a good and healthy impact on the skin and hair.
And the interior padding ensures a perfect shaping according to head size. However, the European Style Metal Security ring helps the user securely place the helmet hanging from the motorcycle handle.
NTNX N325 comes from the German founder, which combines the DOT certification of delivering a good service plus elegant design texture. This awesome helmet has a super thermal polymer shell that is ultra-light in weight and, by the side, provides a reliable safety performance to its wearer.
Why You Should Buy SOXON Mono Open Face Helmet
Scratch-resistant wind visor.
Click-n-secure closure for a faster closing and opening of the helmet.
European style metal security ring.
Both D.O.T. and FMVSS 218 standard approved.
What should you look for when buying a motorcycle helmet? (Buying Guide)
Helmet is a safety gear. Before buying it, you need to give importance to some features to find the best motorcycle helmet. Here in details-
Protection Level of 3/4 Motorcycle Helmet
The main purpose of a motorcycle helmet is to protect the rider's head and face. Suppose you are a regular rider of a motorcycle. You need to choose the best helmet for your protection. Before buying a helmet, check all the safety work well parameters offered by the manufacturer.
Safety and certification of 3/4 Motorcycle Helmet
Safety is the main concern at the time of buying a helmet. The best motorcycle helmet comes with various safety standards for certification according to different places in the world. The most popular safety standards are DOT, which stands for US department of transportation standards. The second one is ECE, and lastly, Snell.
Before picking motorcycle helmets, be sure that this one has the certification of safety ranking.
Construction materials and design of 3/4 Motorcycle Helmet
Helmet construction materials play an important role in helmet weight, comfort, and safety rating. The polycarbonate flaxes absorb energy which is less expensive and used in helmet shells.
Composite Fiberglass flexes, crushes, splits and absorbs energy, but this is more expensive than polycarbonate.
Carbon fiber is light in weight, evenly distributing the impact, but it is also expensive material.
EPS foam material densely compressed into the helmet liners to absorb the impact.
The noise of 3/4 Motorcycle Helmet
Riding a motorbike at high speed or in a traffic area can harm your ability to hear. For reduced or reduced noise, you have to choose a properly fitted helmet on your head and neck. Also sometimes you need to wear earplugs to reduce noise.
The ventilation system of 3/4 Motorcycle Helmet
When you are stuck in traffic during sunny days, the ventilation system is important. So, helmets must have a proper ventilation system for better air circulation.
Price of 3/4 Motorcycle Helmet
Price may vary with expensive construction material and a large number of features. It is experimental; when you choose a costly helmet, you will also find maximum protection and available modern features.
Are open-face helmets safe?
An open-face helmet can increase the joy of any trip or ride. Riders can use these helmets to enjoy the wind blowing on their face and feel less hot during sunny weather than a full-face helmet.
An open-face helmet does not give you proper protection. Since the face is uncovered with an open-face helmet, there are great possibilities of damage to the face during accidents.
Open face helmets are made of quality materials like carbon fiber etc. Due to its quality materials, it does break easily or does not break its own. The main problem of an open-face helmet is that the top portion of the rider's face is available and leads to injury.
Open face helmet does not protect you from unwanted weather and wind, dust, insects, etc. During rainy seasons it is difficult to drive safely with an open-face helmet.
Not wearing a helmet is not safe for riders. Open face helmet is safer than without a helmet.
Riders want great freedom for their motorbike rides. An open-face helmet is a great combination of safety and freedom. With some great advantages like proper airflow on hot days, better communication with others, get a better wide-angle sight, is an open face safe for riders?
During an accident, the chin area may be injured if you wear an open-face helmet. On the other hand, the face will be safe with a full-face helmet.
If we compare an open-face helmet with a half-face helmet, an open-face is safer than a half-face. But compared with a full-face helmet, a full-face helmet gives you better protection than an open face.
Even then, an open-face helmet is better than not wearing a helmet.
Which brand of the Helmet is best?
For beginners, selecting the best motorcycle helmet will be a great problem. Sometimes they are unable to make the right decision to borrow a helmet.
Helmets are safety gadgets that will protect you from major injuries if any accidents happen. For the best safety, we should buy the best helmet so. Depending on many factors, the best helmets can be categorized.
Depending on the safety features, helmets become the best for users. Here we are trying to give you the list of the best motorcycle helmet brands according to safety sales, customer satisfaction, etc.
AGV Motorcycle Helmets
AGV, an Italian company. This manufacturer started its operations in 1947. AGV provides high quality, excellent design, proper face protection at reasonable prices.
AGV motorcycles have fantastic ventilation systems and capabilities of noise reduction.
Shoei Motorcycle Helmets
Shoei helmets from Japan were established in 1959 in Tokyo. They are the innovators of high-end premium belt helmets. This company tries all the time so that its customers are not frustrated with its products.
The best thing about Shoei helmets is their reduction of noise. Even in a high traffic area no need to take any earplugs. These helmets are available in different colors and sizes with an internal sun visor.
Shark Motorcycle Helmets
The leading innovator of motorcycle helmets is Shark. Shark was established in France in 1986. Riders can find all the features they need in shark helmets.
The aerodynamics-designed helmets offer you leading-edge protection, quick-release visors, and easy cleaning of the visors. Compared with other brands, Shark helmets are a little bit expensive.
HJC Motorcycle Helmets
If you are searching for full protection at a lower price, HJC is the best. HJC helmets are getting popular because they provide a comfortable helmet with high quality, stylish design, and affordable prices.
Arai Motorcycle Helmets
An old company of Arai started their manufacturing in Japan in 1926. The hand-built helmets ensure their quality by performing testing procedures in every stage of manufacturing.
Arai helmets are made of high-quality materials. It has the properties of reduction of wind noise, provides maximum comfort. Riders can easily carry these helmets.
Nolan Motorcycle Helmets
DOT certified Nolan brands give the maximum protection. Nolan is also an Italian helmet company founded in 1973.
You can use the highly modular Nolan brand helmets in any season.
Nolan manufactured different types of helmets. It may be an open-face, full-face, or off-road side helmet.
These helmets are getting popular due to their flexibility.
Bell Motorcycle Helmets
The Bell manufacturer is the inventor of the full-face helmets in 1971. They provide helmets like full face, half, ¾, snowmobiles, and different kinds of helmets.
The DOT and Snell-certified Bell helmets are well designed and highly comfortable on your head. This helmet offers great ventilation systems.
Before picking any brands, you have to know if this helmet is perfect or not. Does this helmet have DOT approval or not?
Are cheap helmets safe?
Cheap helmets lack some features and advanced mechanisms, but cheap helmets are as safe as expensive helmets.
In most accidents, riders get injured due to shock and impacts on the brain. The EPS or polystyrene liners between the helmet's shell absorb the impact during an accident, and this shock does not have any harmful effect on the brain.
Some plastic, polycarbonate, or thermoplastic are also good in doing this job except for a few hard materials. Cheap helmets are made of such types of plastics or polycarbonate. More affordable helmets provide you great protection as well as expensive ones.
So, price does not matter in the case of safety. The helmets, which are low cost, give you good protection, and sometimes it may be better.
Which visor is best for a helmet?
The visor is one kind of protecting surface which is used in helmets. Visors can protect your eyes from harmful sunlight, bright light, or any other matter such as dust, wind, etc.
Most of the riders choose transparent helmet visors firstly. Through transparent visors, maximum light can pass. And riding becomes tough during sunny days.
Most riders replace their clear visors with mirrored or smoked visors to protect eyes from harsh sunlight.
Among these three ones, which one is the best one for you?
Clear helmet visors are transparent and allow maximum light to pass them. Clear visors offer you full visibility, among others. But it does not give you proper protection from sunlight. On sunny days, long drives with clear helmet visors cause harmful effects on your eyes.
Mirrored helmet visors have mirror-like finishings. These visors reflect leading lights. A small portion of light can pass through these visors. These mirrored visors give you maximum protection from sunlight. And a cooling effect on your face during sunny days.
But after the sun sets in the dark, driving a motorbike with mirror visors blinds you, which leads to accidents.
Smoked helmet visors give better visibility at night than mirrored visors. Smoked visors are translucent and colored visors.
It provides great protection from sunlight. This helmet may also be dangerous at night on the highway without any street lights.
Finally, if you are a rider only in the daytime, you can easily choose stylish, good-looking mirror visors. Or choose colorful smoked visors even after sunset with a proper lit environment in a city.
But in the situations of night riding where there are no proper lights, you should carry a clear visor to avoid unwanted problems.
Now dual visor helmets are available in markets. If possible, you may choose dual visors helmets where in-built mirrored and clear visors are available. This helmet gives you safe and tension-free rides.
What is an advantage to using a helmet with a frontal shield?
Riding with a motorcycle is a great adventurer thing now. Specifically, teenagers like to enjoy their rides with their great motorbikes. But riding a bike can be dangerous for you if you do not protect your head and face.
Riders can reduce the risk of accidents or injury during accidents by using different types of motorcycle gadgets and obey respective state laws.
Wearing a motorcycle helmet with a frontal shield has a great advantage. Let's know details-
Give maximum security: Wearing a motorcycle helmet during a ride gives you full protection for your helmet. The EPS liners within the helmet shell absorb the produced impact during the accident, and your brain stays safe. The face shield of a helmet protects your helmet from the risk of injury.
Protecting you from the weather: Rain, dust, wind, and sometimes insects make the journey to motorcycle rides more dangerous and unpleasant. A motorcycle helmet protects you from rain, dust, winds and reduces the risk of an accident by maintaining good visibility.
Reducing wind noise: Helmets cover your ear and reduce wind noise. When wind noise is declined, you can easily concentrate on the surroundings. And become aware of any types of dangerous situations.
Improving the visibility: Helmets visor can protect your face from dust, any bugs, winds. These materials destruct you from your concentration and make a hindrance to your view of the road. The helmet's face shield helps to improve the rider's visibility by avoiding these types of obstacles.
Which helmet visor is best for night driving?
Visors can use helmets to protect the eye from sunlight, dust, wind, etc. The available visors such as clear visors, mirrored visors, smoked or colored visors. Clear visors can give you better visibility than others.
In night driving, using mirror visors or smoked visors can cause accidents due to lack of visibility. Both types of visors reflect maximum light and allow a small amount of light to pass through them. In the dark, you may become blind to these types of visors.
In night driving, choosing clear visors is a wise decision.
How much should a good motorcycle helmet cost?
The motorcycle helmet is a gadget to protect yourself. Before spending a little penny, you should confirm that this one is DOT or Snell approval. You should pay enough for the helmet, which offers you the maximum level of protection with different safety organization's permission.
According to thumb rules, you should spend at least $250 for a helmet with good safety features. After that, if you want more comfort and features, you have to pay more.
Riders can easily identify the certification of safety standards of helmets by observing the backside stickers.
If you spend $150 to $300, you may find a motorcycle helmet of average features. For a high-quality motorcycle helmet with all modern features, you have to spend $300 to $600 and more.
FAQ
What do you do with old motorcycle helmets?
After five years, a motorcycle helmet has to be replaced due to safety issues. After ending with self, what do you do with these expired motorcycle helmets?
Do you resell it? Reselling is not a good idea. Because you have already decided this Helmet is not safe for use. 
You can donate this motorcycle helmet to the emergency services for using their training sessions. Or you also make it a craft by painting it.
Do open face helmets come with visors?
Open face helmet, also known as ¾ face helmet. An open-face helmet can cover your head back, top, and sides. But your face is exposed to air with these helmets.
Open face helmet available in full visor and also in the half visor. Sometimes riders have to purchase visors separately for better protection from sunlight and dust.
How long do motorcycle helmets last?
Most manufacturers recommend using a helmet for 3 to 5 years. Some are said to be used for seven years. 
But depending on the rider's usage, accident history, or any types of exterior or interior damage are seen, or your helmet becomes loose, or your strap or lock becomes loose, then immediately change your helmet.
What is the difference between DOT and Snell-approved helmets?
DOT and Snell are both certification organizations for motorcycle helmets, bicycling, Karting, and more. DOT or Department of Transportation certification is a requirement of the United States. On the other hand, Snell certification is not mandatory for the United States.
Both of the certification procedures test some helmet features such as impact test, positional stability, chin bar test, shell penetration, face shield penetration, and so on.
Almost all the test parameters are the same in both DOT and Snell tests. They are slightly differing only in terms of judge value according to the criteria of impact, severity, and equipment used in test procedures.
Passing the Snell test certification is more difficult than the DOT test.
In Snell, certification manufacturers provide samples of helmets for testing, and Snell testing and certifications are done. On the other hand, manufacturers certify their helmets in their labs.
Which is better, modular or full face?
A modular helmet is a versioned helmet of open face and a full-face helmet. Just flip off the shell. You can easily convert it into a full-face helmet. By wearing a modular helmet, riders get proper protection with a face shield. Suppose you need some fresh air or in a gas station modular helmets to be open face helmets when required.
 
For getting the most protection, a full-face helmet is the best choice. Full face helmets are lighter than modular because they have no hinges and other components like modular helmets.
If you want some fresh air during ridings with safety, then modular is best. 
Or, if you want maximum protection without any anxiety, then a full face is best.
Open face or ¾ helmets come with different features, proper ventilation, great visibility, and lighter weight than others. The above-listed best motorcycle helmets are certified by standard organizations. All of the helmets give you great safety features.